Did she or did she not? Did Katrina Kaif actually spend Rs 55 lakh to get her hair dyed by London-based stylist, Daniel Galvin, for her upcoming film with Aditya Roy Kapur, Fitoor? So what if the actor has denied it, this is the kind of price tag that sends internet trolls on an overdrive.
They cussed and hissed at her and said that that amount of money could have been better spent on children's education and other humanitarian ventures.
Read: How Katrina Kaif, Ranbir Kapoor avoided each other at Auto Expo
However, considering she did not really shell out that much money, we decided to come up with things worth the amount that would serve Katrina or the world better if she would rather choose them. Here are 15 of them:
1. Tickets from Delhi to Switzerland for 140 people.
*Per ticket cost: Rs 39,000.
2. Recharge 6000 Delhi Metro Cards to maximum limit
*Rs 900 per card.
3. A dress at next Cannes that doesn't look like it was used to sweep a barber shop's floor
Anything would be better. (AP)
4. Bachelor in Arts Degree in Hindi Literature in Delhi University for 350 students
* Rs 4000 tuition fee for one year, per student. (HT Photo)
5. Actual hair transplants for 220 people
* Rs 25 per hair graft, 1000 hair grafts. (Shutterstock)
6. 18,333 DVDs of Boom (to set fire to them)
*Rs 300 per DVD.
7. Made Greece Rs 55,00,000 less in debt
*They need every penny (AP)
8. Got herself 5 Narendra Modi style suits with her name embossed on them
*Rumoured figure: Rs 10,00,000 per suit. (HT Photo)
9. Made someone with Rs 45,00,000 a Crorepati
*OK that was a stretch. (Shutterstock)
10. 36 dinners with Arnold Schwarznegger or 40,000 McDonalds Happy Meals or Arnold Schwarznegger dressed as Ronald McDonald
There is no bathroom!
11. Turn into Robin
*Not enough funds to turn into Batman.
12. Recreate this scene from The Dark Knight by burning up her money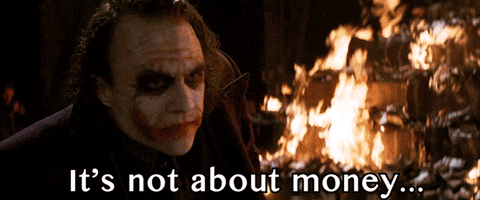 *COOLEST OPTION
13. 5,200 dart board with Ranbir/Salman's face
*Rs 1,061 per normal dartboard
14. 189 bails for Salman
*His last bail was made for Rs 30,000. (HT Photo)
15. Or she could be a logical, prudent woman by making wise investments in mutual funds (Kotak Mahindra seems legit) or buying Apple stocks or purchasing prime sun-facing property in Delhi NCR region.
*FD/KDRs could also work. (Shutterstock)