Aishwarya Rai, who's turns 43 on Tuesday, has proven that she is still the queen of Bollywood after all these years.
She is a loving wife to Abhishek Bachchan and a doting mother to Aaradhya and still juggles between work and her family with an ease only few can manage.
From winning the Miss World title at 21 to working with the biggest names of Bollywood and Hollywood, Aishwarya's life has been nothing short of inspirational. So to mark her birthday, here are 20 brilliant quotes by her to get you through life.
1. "Life will take its toll on all of us. We get injured, we get old ... Looks are not everything. I am not going to look beautiful all the time."
2. "Women in the industry have been exploited very often, but there are some actors who believe that the short cut to stardom is through nudity."
3. "I know for a fact that if there's a role which I am suited for, I'll be signed on. I'll never go begging."
4. "Sexy in India is not considered positive. But, with today's crop of fresh faces in the modelling arena, being sexy is an asset."
5. "My family is my strength and my weakness."
6. "She (Mother, Brindya Rai) is the nucleus of my existence; who has gently molded me, shaped me, picked me up when I've been down, has faith in me and taught me to be the very best version of me that I can be."
Aishwarya with her mother and daughter Aaradhya.
7. "God has given me plenty of reasons to smile and I feel it's time to spread it around."
8. "Many of us are privileged to have opportunities and the confidence in ourselves that assures our safety, but most women in our country do not have that. A lot is being said but a lot more needs to be done about this issue. The day we have definite laws for the wrong doers and immediate punishment to them, that is when things will change."
9. "A lot of actors have kissed before that movie, they continue to kiss on screen till this very minute, but public display is not that common in Indian culture. Even our actors, it's very rare that actors look comfortable in our cinema on screen kissing." (On her Dhoom 2 kiss)
10. "It's splendid, it's inescapable...the bliss is just wonderful. A smile from my daughter and thats it" (Ash on her daughter Aaradhya)
11. "I've always said that haters are a drop in the ocean. There's that much more love. Any kind of negativity in any case just doesn't stick, it drops off and it doesn't matter. People have given me so much love throughout my career, my life in the public eye, at every phase. "
12. "After I got married, for the next two years, I was congratulated everywhere and felt like a new bride. Same goes true for when I was pregnant. Wherever I went, the amount of love I, Abhishek and Aaradhya have received...it's a blessing to be in this place. I take this opportunity to say thank you to everyone for their love, good wishes, blessings. That's the real thing, the rest of it is opinion that varies and it doesn't matter. This is the reality."
13. "When it comes to food, I love my food, I am comfortable with my foods. I have never dieted. Never. I really enjoy food."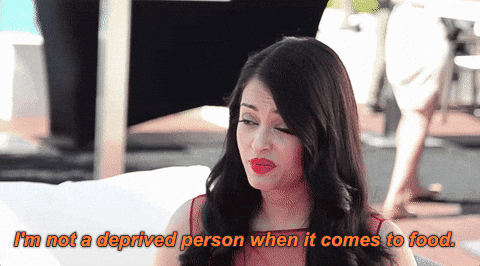 14. "This is who I am. I am a mother. This can happen and it has happened with me and it's fine (weight gain). I've never been the one who endorse size zero anyway. You guys speculated I was pregnant way before I actually was. It goes to show that I have lived real life in the public eye. That continues."
15. "I am very, very thankful to Gurinder because that film [Bride and Prejudice] was such a clever piece of work, because there she was adapting an English classic, making it so human and so normal in that very Indian family atmosphere which is so natural to us, and presenting it with what was recognised as very signature Bollywood, bringing the musical aspect - and it was widely appreciated the world over. Wherever I went, people recognised that. I was amazed at the number of people who had given it [an] audience."
16. "I'd be accused of bias, but worldwide currently Pa [Amitabh Bachchan] is absolutely iconic, he's celebrated, he's respected. He definitely is deservedly iconic, and I say this without any bias, and if I am accused of it so be it."
17. "Working with Salman is out of the question. And you can quote me on that."
18. "I'm not the type who'll yell about my achievements from the rooftops."
19. "'Aaradhya' means 'one who is worthy of worship'. It was a name both Abhishek and I had always considered, but we threw it open to our extended family."
20. "Elegance is innate...individual...eternal...it stands the test of time!"
All hail the queen!
Follow @htshowbiz for more