The music's there, but it's different. It's darker. This time, everything is darker. The first trailer for Rogue One: A Star Wars Story has just been released, expanding the universe JJ Abrams so lovingly recreated in last year's The Force Awakens.
Felicity Jones plays Jyn Erso, continuing the series' exploration of lead female characters. She a rough sort, and we're introduced to her just as she is being charged with several crimes. "Forgery of imperial documents, possession of stolen property, aggravated assault, resisting arrest," looms a voice. She has been on her own since 15, reckless, aggressive and undisciplined. She is not like any Star Wars hero we've ever seen before. But she rebels.
Watch the trailer here
She is, then, a perfect candidate for a secret operation, one that involves the most horrific weapon ever created: The Death Star. A ragtag bunch of misfits is brought together. Their task: To infiltrate the Imperial Army and steal the plans for the Death Star before it can be put to the Emperor's use.
Rogue One, at first glance, looks like a worthy successor to The Force Awakens. It's just what every sequel -- or in this case, spinoff -- should be. New characters are introduced, including Forest Whitaker's Yoda-like mentor who warns Felicity Jones' character of the troubles that lie ahead. "What will you do when they catch you?" he asks. "What will you do if they break you? If you continue to fight, what will you become?"
There are also a few teases that'll be interesting to speculate about once we've dissected the trailer a few dozen times. Off the top of our heads: Ben Mendelsohn's villain looks an awful lot like Grand Moff Tarkin, and there is a very real chance of Darth Vader making an appearance, considering this movie is set before the original trilogy. Donnie Yen's fight sequences look amazing, as does the conspiracy thriller tone of the film, the retro vibe of the visuals and that epic moment we see a fleet of AT-ATs attacking our misfit heroes. But most curiously, why is Felicity Jones dressed like an Imperial fighter at the end?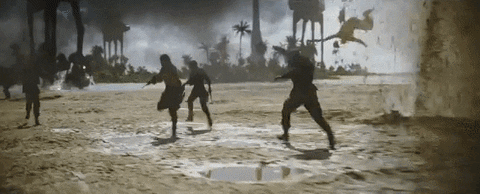 Read: Rogue One: A Star Wars Story is the most anticipated movie of 2016
Read: Han Solo gets his own Star Wars movie, Lego Movie duo to direct
All in all, this Rogue One teaser has successfully kicked off another long wait till December. But we're prepared now. Gareth Edwards' film also stars Riz Ahmed, Diego Luna, Mads Mikkelsen and Alan Tudyk.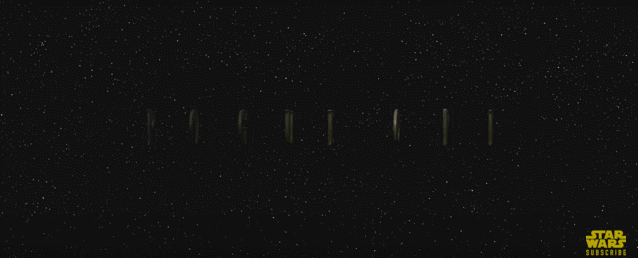 Follow @htshowbiz for more