It was a long time coming, but the first 'teaser trailer' for Guardians of the Galaxy Vol 2 is finally here - and if you're a fan of the first film, you're going to love this.
Director James Gunn tweeted the short teaser on Wednesday, making it very clear that it was not a trailer, or even a teaser for the trailer (which, he promised, is coming soon), but a separate reel of sorts.
So the 1st #GotGVol2 trailer is coming soon; in the meantime we put together this special sneak peak for you. https://t.co/DUadohMNR7

— James Gunn (@JamesGunn) October 19, 2016
To make it clear: the sneak peek just released is NOT a teaser-for-the-trailer; it's a totally separate piece from the eventual trailer(s).

— James Gunn (@JamesGunn) October 19, 2016
So there you have it - it's still early days and the effects shots will take a while to be finished, which is why a lot of what we see here is indoors. And then there's that awkward interaction between Chris Pratt's Star Lord and Dave Bautista's Drax. The chemistry between the characters was what made the first film such quirky fun - that, and the amazing soundtrack.
Which they make sure to revisit in this clip: The thing is scored to Hooked on a Feeling, just like the first teaser for the original movie was.
Marvel also shared the first poster for the movie, which is just perfect.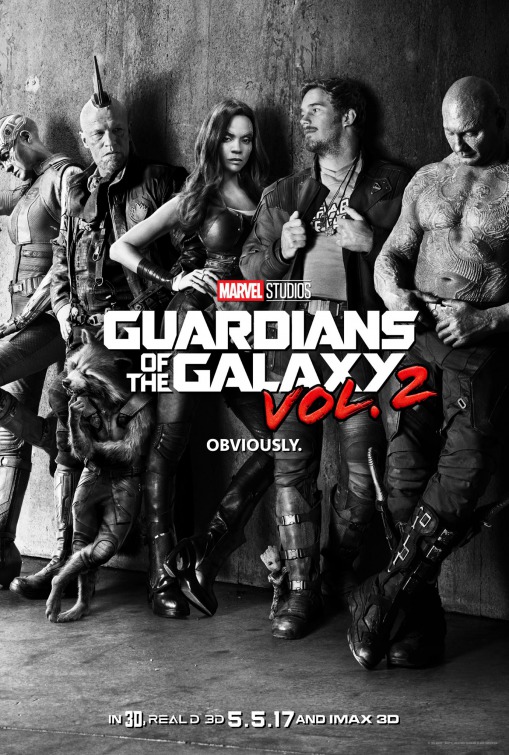 Aside from that tongue-in-cheek tagline (Obviously.) which is a cool follow up to the first film's 'You're welcome' the poster retains the tone we've come to expect from the Guardians films. And, if you look closely, you'll notice a cute little surprise clinging on to Chris Pratt's leg.
Guardians of the Galaxy Vol 2 is scheduled for a May 5, 2017 release and also stars Zoe Saldana, Bradley Cooper, Vin Diesel, Kurt Russell, Karen Gillian, Elizabeth Debicki, Michael Rooker, Pom Klementieff, and Glenn Close.
Make America Groot Again. #GotGVol2 pic.twitter.com/WTp2pSAUNo

— James Gunn (@JamesGunn) October 19, 2016
Follow @htshowbiz for more