Action movie star Jackie Chan is due to receive an honorary Oscar, the Academy said Thursday, to recognise a glittering career that has seen him become a cultural icon.
Chan, 62, has starred in (and sometimes written, directed and produced) more than 30 martial arts films, most of them made in his native Hong Kong. He received crossover success in the 1990s with Rumble in the Bronx and Rush Hour. Lately, he has contributed voice-over work to the Kung Fu Panda animated series. He has never been nominated for an Oscar.
"The honorary award was created for artists like Jackie Chan, Anne Coates, Lynn Stalmaster and Frederick Wiseman -- true pioneers and legends in their crafts," said Academy president Cheryl Boone Isaacs.
Previous winners of honorary Oscars include Lauren Bacall, Francis Ford Coppola, Oprah Winfrey, Angelina Jolie and Spike Lee.
Here is The Academy's tweet
Congratulations to #GovAwards winners @EyeOfJackieChan, Anne Coates, Lynn Stalmaster & Frederick Wiseman! https://t.co/RrwKlc0GiP

— The Academy (@TheAcademy) September 1, 2016
News of Chan receiving the Oscar is being celebrated on social media. We've picked the best ones
Filmmaker Edgar Wright's films often have visual references to martial arts movies, especially those of Jackie Chan. The director of The Blood and Ice Cream trilogy paid tribute to Chan, calling him a true legend of cinema.
So pleased @TheAcademy are awarding Jackie Chan with an honorary Oscar this year. The man is a legend of action cinema & its truly deserved.

— edgarwright (@edgarwright) September 1, 2016
Entertainment journalist Jake Hamilton of Fox, congratulated Chan on Twitter.
Jackie Chan will receive a lifetime achievement Oscar at next year's Academy Awards.

Well deserved, in my opinion. pic.twitter.com/zVGD8TSiMT

— Jake Hamilton (@JakesTakes) September 2, 2016
Peter Sciretta, editor-in-chief at Slash Film captured the sentiments of the internet in one tweet.
They're Giving Jackie Chan an Honorary Oscar and All is Right With the World https://t.co/13MNGnJVnY pic.twitter.com/kgzk9SKUjw

— Peter Sciretta (@slashfilm) September 1, 2016
JACKIE CHAN HONORARY OSCAR YES

— Ben Mekler (@benmekler) September 1, 2016
Writer/director Brian Lynch made a joke about how Jackie Chan movies usually end with a gag reel.
#JackieChan is getting an honorary Oscar. If they don't do a end credit sequence with all sorts of violent Oscar night bloopers, I quit.

— Brian Lynch (@BrianLynch) September 1, 2016
When you even suggest that Jackie Chan doesn't deserve an honorary Oscar. pic.twitter.com/nA7Umt28fL

— John Ross Bowie (@JohnRossBowie) September 1, 2016
Ghostbusters director Paul Feig also chimed in.
Jackie Chan is getting an honorary Oscar! For this one moment, all is right with the world.

— Paul Feig (@paulfeig) September 1, 2016
It touches my heart to know that Jackie Chan is getting a lifetime achievement Oscar: https://t.co/pliE08dprH

— Esmé Weijun Wang (@esmewang) September 1, 2016
Will there be a Rush Hour 4 though?
An honorary [completely deserved] Oscar now for Jackie Chan pretty much guarantees that "Rush Hour 4" will be his "Color of Money."

— Daniel Fienberg (@TheFienPrint) September 1, 2016
Word.
Jackie Chan should have won an Oscar just for the stunts in POLICE STORY 3 alone. Nice to see action recognized. pic.twitter.com/uSKI4KHRH6

— Joshua Rothkopf (@joshrothkopf) September 1, 2016
Jackie Chan to get honorary Oscar; that is AWESOME. Under-recognized in his prime; he's a modern-day Buster Keaton. https://t.co/dKBg3oi1Iy

— (((David S. Cohen))) (@Variety_DSCohen) September 1, 2016
Indian actor Ileana D'cruz also shared a throwback photo of Jackie Chan in which she's wearing his glasses.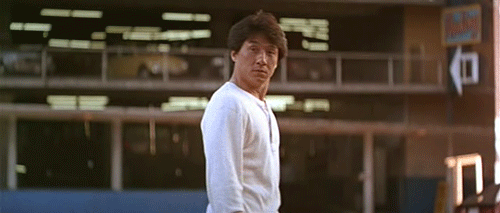 Follow @htshowbiz for more