Kabali is almost as big as Rajinikanth, but not quite. Not because it's a bad movie, but because nothing -- not even Rajinikanth himself - can top Rajinikanth.
Thalaivar is the last great superstar of this country - and maybe even of this world. Kabali is built around the man, his legendary screen presence, and his trademark style.
Read: Will Kabali see Rajini reinvent himself? 5 reasons to watch the film
Many have tried, as many will in years to come, to recreate the magic of Rajinikanth. But like his performance in films that started it all, films like Parattai and Billa, the superstar commands your attention every second he is on screen. He delivers lines like only he can, beats up crooks in the typical Rajini way, and even goes back in time.
So can Kabali be a bigger hit than Baahubali? We can only wait and watch.
We will be updating this page live with instant reactions. Stay tuned for more...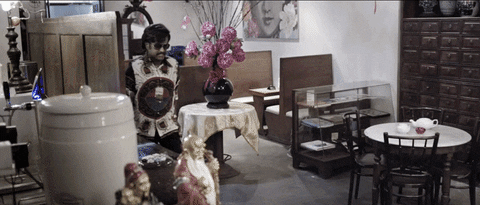 #kabali | Film ends. This is neither baasha nor Lingaa. A good comeback after flops. And that's it. Nothing more nothing less @htshowbiz

— Vinu (@vinuthewriter) July 22, 2016
#kabali | Slow second half building up in a brisk pace towards an epic climax. Hope there is a powerful end to this drama. @htshowbiz

— Vinu (@vinuthewriter) July 22, 2016
#kabali | Slow. S L O W. S L O W. This is the slowest second half ever in any Rajini film. @htshowbiz

— Vinu (@vinuthewriter) July 22, 2016
#kabali | First half take 5 | Santhosh narayanan songs and background score is a big plus to this slow paced drama. @htshowbiz

— Vinu (@vinuthewriter) July 22, 2016
#kabali | First half take 4 | Kabali is 80% Ranjith 20% Rajini. His fingerprints are visible throughout the movie. @htshowbiz

— Vinu (@vinuthewriter) July 22, 2016
#kabali | First half take 3 | Usual Rajini fans will find it boring. No masala. Teaser and posters don't reflect the content @htshowbiz

— Vinu (@vinuthewriter) July 22, 2016
#kabali | First half take 2 | Acting is given importance. Not the usual fluff and glamour. Subtle face reactions carry the film @htshowbiz

— Vinu (@vinuthewriter) July 22, 2016
#kabali first half quick take 1 | This is not your usual Rajini film with romance+fight+comedy+plot cocktail. This is emotional drama

— Vinu (@vinuthewriter) July 22, 2016
#kabali | one hour 20 mins. First twist. Predictable. Still a good one. @htshowbiz

— Vinu (@vinuthewriter) July 22, 2016
#kabali | Everything has a meaning in this movie. Even rajini's coat has a meaning. @htshowbiz

— Vinu (@vinuthewriter) July 22, 2016
#kabali | one hour ten mins into the film. This is an emotional drama with no heroism. Strong plot. Excellent camera angles. @htshowbiz

— Vinu (@vinuthewriter) July 22, 2016
#kabali | Radhika Apte. Serene actor. Important character. Excellent plot device. @htshowbiz

— Vinu (@vinuthewriter) July 22, 2016
#kabali | No dance. No running around the tree. No unwanted heroism. Just serene acting. Natural dialogues but slow pace. @htshowbiz

— Vinu (@vinuthewriter) July 22, 2016
#kabali | Half an hour into the film. Pace reduced. Into the finer layers of the film. Slightly dragging. @htshowbiz

— Vinu (@vinuthewriter) July 22, 2016
#kabali | First 15 mins and two pluses already. 1. Santhosh narayanan music is going to light up this film 2. Sharp dialogues @htshowbiz

— Vinu (@vinuthewriter) July 22, 2016
#kabali | Simple yet powerful intro for Rajinikanth. Plot starts right away. No unwanted buildups @htshowbiz

— Vinu (@vinuthewriter) July 22, 2016
#kabali | Five minutes into the film. And there he is. As stylish as ever. His walk. His style. Remains the same. @htshowbiz

— Vinu (@vinuthewriter) July 22, 2016
#kabali | super star animation is there. They have gone with the old animation. But with kabali background score. @htshowbiz

— Vinu (@vinuthewriter) July 22, 2016
#kabali | Finally. IT IS HERE. U certificate. The title card is about to be up there @htshowbiz

— Vinu (@vinuthewriter) July 22, 2016
#kabali | trailers... more trailers. Can hear murmurs from the back. " We want to see Rajini. " @htshowbiz

— Vinu (@vinuthewriter) July 22, 2016
#kabali | waiting for the show to start. This is unbearable. They start with theatre promotions, advertisements and trailers. @htshowbiz

— Vinu (@vinuthewriter) July 22, 2016
#kabali | Totally 4 ppl in theater. Including me. PVR LOGIX Noida. Must have been the opposite back in Chennai @htshowbiz

— Vinu (@vinuthewriter) July 22, 2016
#kabali | Just moments to go for the show to start. Mixed reviews from Dubai and US. Too much hype. Too much expectations. @htshowbiz

— Vinu (@vinuthewriter) July 22, 2016
#kabali | Pvr logix mall in noida. Absolutely no kabali mania here. First to enter the mall. pic.twitter.com/dQVJwu0XBs

— Vinu (@vinuthewriter) July 22, 2016
Follow @htshowbiz for more