Tamil megastar Rajinikanth turns 65 on Saturday. While donating Rs 10 crore for those affected by Chennai floods, the superstar announced that he will not celebrate his birthday this year.
In the industry for more than 30 years now, the actor has, time and again, proven his ability to re-invent. Critics have cried hoarse at his steady decline as an actor since the time he made films such as 1975 Apoorva Raagangal with legendary South Indian filmmaker K Balachander.
However, since the 1990s, he has been making films with a focus primarily on his mass fan base. That's the reason why he is cast in film after film with puerile plot lines, made to look much younger than reality and gets cast opposite much younger female actors.
Rajinikanth's Kabali will release in June 2016 and will star new sensation Radhika Apte (30), (believe it or not!) as his wife! But will this be a first for the actor? Not quite. Here's a list of actors he has worked with as romantic leads who were several years younger than him.
1. Sonakshi Sinha and Anushka Shetty in Lingaa
Rajinikanth romances Sonakshi and Anushka in Lingaa. (Rockline Entertainment)
In the 2014 release Lingaa, Rajinikanth was cast in a romantic role opposite two young ladies, Sonakshi Sinha (28) and Anushka Shetty (34). There were media reports that Rajinikanth was extremely uncomfortable working Sonakshi who is a daughter of his good friend, actor Shatrughan Sinha.
Watch the trailer:
2. Deepika Padukone in Kochadaiiyaan
Deepika Padukone and Rajinikanth's CGI avatars in Kochadaiiyaan. (Youtube grab)
In Kochadaiiyaan (2014), the actor was cast with Deepika Padukone (29). Much to everyone's relief, the film was made using computer animated characters, and hence could be looked over.
Watch: Deepika Padukone and Rajinikanth romance in Kochadaiiyaan
3. Aishwarya Rai Bachchan in Enthiran
Rajinikanth and Aishwarya Rai in a still from Enthiran. (Youtube Grab)
Strangely, female actors too have no qualms working with senior stars. Aishwarya Rai Bachchan (42) was a 37-year-old woman when she worked in Enthiran (2010) with Rajinikanth, who was 60 then.
Watch the romantic track Arima Arima from Enthiran
4. Shriya Saran in Sivaji
Shriya Saran and Rajinikanth in a still from Sivaji. (Youtube grab)
Every time the question of Indian actors (Rajinikanth, Kamal Haasan, Salman Khan, SRK etc) working with actors more than 20 years their junior has come up, Rajinikanth's fans and colleagues have always defended his choices. Some ascribe his youthful looks to his dark skin, which, they say, keeps it wrinkle-free.
In Sivaji (2007), he plays a young NRI who returns 'home' to do good. Needless to say the 'dashing hero' must have a heroine to suit. In came Shriya Saran (33).
Watch Vaaji Vaaji from Sivaji
5. Manisha Koirala in Baba
Manisha Koirala and Rajinikanth in a still from Baba. (Youtube Grab)
Long back Rajinikanth worked with Manisha Koirala (45), his junior by 20 years in Baba.
Watch Kichchu Tha, a song from Baba
6. Rambha in Arunachalam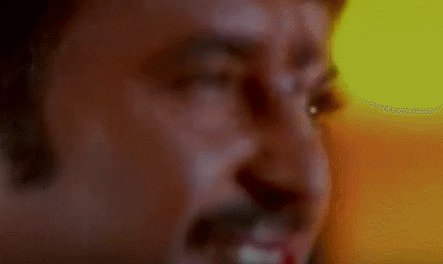 Remember the buxom beauty in Salman Khan-starrer Judwaa? It's Rambha we are talking about. An established South Indian actor, back in the '90s, she too worked with Rajinikanth in Arunachalam.
Watch Alli Alli Anarkali from Arunachalam
7. Khushboo in Annamalai
Khushboo and Rajinikanth in a still from Annamalai. (Youtube Grab)
The Congress spokesperson Khushboo (Nakhat Khan, 45), who began her acting career as a child star in the early '80s, went on to become a major star down south. In Annamalai (1992) she was paired opposite a much-older Rajinikanth.
Watch: Rajnikanth and Khushboo in the song Rekkaikatti Parakkudadi from Annamalai:
8. Ramya Krishnan in Padaiyappa
Ramya and Rajinikanth in a still from Padaiyappa. (Youtube grab)
Recall the matriarch Sivagami from SS Rajamouli's Baahubali? Much before she began playing such powerful matriarchal roles, Ramya Krishnan (45) was once a leading female actor working in all major south Indian films. In Padaiyappa (1999), she worked with Rajinikanth, despite a 20 year age gap.
Watch Rajnikanth and Ramya Krishnan in Padaiyappa
Read: Rajinikanth donates Rs 10 crore to Chennai flood victims
Follow @htshowbiz for more.