HBO released another teaser for the sixth season of their hit fantasy drama Game of Thrones on Saturday and the views are piling up. Though no big reveal has been made, but whatever little is revealed, is enough to get us excited again.
The 30-second video begins by showing Daenerys being taken to Vaes Dothrak by the Dothraki tribe (which we already knew from the first trailer). Tyrion's words loom as he says "Are you afraid? You should be. You're in the great game now, and the great game is terrifying." We see him with Misandei and Grey Worm in following scenes and maybe that's who he is talking to.
We then move to Winterfell where D-bag supreme, Ramsay Bolton is sitting on a horse, perhaps about to burn someone alive. We then see Sansa and Theon running for their lives from the Boltons and into the woods.
Next stop is King's Landing where the High Sparrow is telling King Tommen "We are sinful creatures. We deserve death. We all do." We see Jaime in his full armour as if going to a battle. Right after Jaime, we witness Brienne swinging her sword at someone.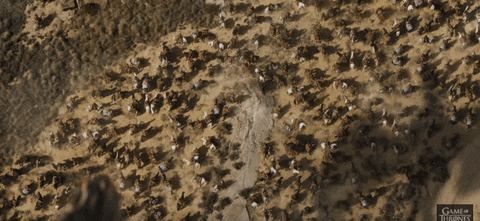 Then comes the best part where a massive dragon flies over a hundred men. If it is one of Daenerys' dragons, it sure has grown into a massive beast in just two seasons.
Arya still has cloudy eyes from being blinded by Jaqen H'ghar last season. He tells her "One way or another, the gift will be given. One way or another, a face will be added to the hole." Wun Wun, or maybe some other giant breaks a door in half, presumably unhappy at Jon Snow's murder.
Read: Game of Thrones Season 6 trailer- Looks like we all chose violence
Then there is the Night King walking away from a fire and scaring Bran, holding him by his arm. It has to be a dream or a vision though because obviously Bran cannot stand upright like that.
Fans all over the world can hardly wait for the season to begin on April 24.