Is there anything she can't do?
Last time Priyanka Chopra was on The Tonight Show with Jimmy Fallon, she beat him mercilessly at the 'who can eat most chicken wings' competition and this time, she crushed him at the 'bobbing for apples' contest.
She was at the late night show to promote the upcoming season 2 of her hit TV show Quantico.
Jimmy and Priyanka put on their protective eye-gear and flannel shirts to play the game which traditionally marks the onset of Fall. Priyanka made it clear to the audience that because she isn't an American, she is at a disadvantage. However, it was soon evident that she was actually a master at the game. Check it out:
Jimmy also talked to Priyanka about her stunning Emmy appearance this Sunday which got everyone talking for days. She revealed it was Hollywood star Tom Hiddleston who made her repeat her 'move' when they walked on stage to present an award together.
Priyanka Chopra arrives at the 68th Primetime Emmy Awards in Los. (Reuters)
Talking about it, Priyanka told Jimmy, "I walked out with this big train and I did it for the first time 'cause it's so pretty and I felt princessy and after I twirled once I was doing it all night!
"All of the photographers were asking me to twirl and then on-stage Tom made me twirl and I was always only twirling. I'm the twirling dancing emoji now!" she joked.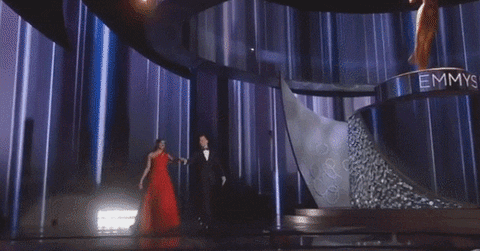 Jimmy also asked her about her super thick passport which she says she has to replace every year. Watch the interview:
With inputs from PTI
Follow @htshowbiz for more