Along with Khaki shorts RSS should review its regressive ideology
While the look may change, what seems far more resistant is the RSS mindset that has been very slow to keep up with modern thinking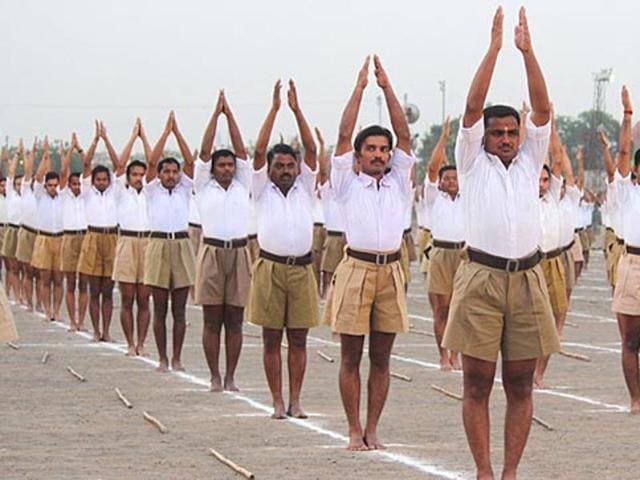 Published on Aug 30, 2016 12:24 PM IST
Over the years, the RSS has endured a fair bit of ribbing for its somewhat archaic dress code. The loose khaki shorts have not been too flattering for many in its ranks, especially the leadership when it comes to aesthetics. Now the organisation is going in for a make-over, at least sartorially, with the plan to replace the shorts with brown pants. This, it says, will make it easier for the rank and file to conduct the martial exercises which are its hallmark.
Read | New uniform: RSS starts distributing brown trousers to replace khaki shorts
But, while the look may change, what seems far more resistant is the RSS mindset that has been very slow to keep up with modern thinking. It was only recently that RSS chief Mohan Bhagwat made remarks to the effect that it is the duty of a man to protect his wife in return for which she is bound to look after him. If she fails, according to Bhagwat, the man may disown her. This set a cat among the pigeons though Bhagwat made no attempt to change his stance.
Read | RSS trying to turn temples into storehouses of arms: Kerala minister
It is a fundamental belief of the RSS that the woman is the pivot of the family unit and that this should be her priority. On the issue of reservations, it is only recently that the RSS has acknowledged that the lower castes sections among the Hindus may need affirmative action. The RSS claims to be a cultural organisation with no political role, but the fact that it is a mentor of the BJP is no secret. Many of the BJP's top leadership have been from the RSS cadre.
Now that the BJP is in government, the RSS' ideology has often been at variance with that of the party. In the area of economics, the RSS prefers the swadeshi approach while the government is committed to opening up the economy further.
Read | 'RSS distributed sweets the day Gandhi was assassinated'
The RSS claims that its ranks are growing, especially after it started a drive to recruit people online. It is not the number of workers or shakhas that really counts, it is the vision of the RSS, which should be more progressive and inclusive. If it can try and effect a mindset make-over along with a uniform change, then it might really be able to play a more constructive role in nation-building and social uplift.
@LalitaPanicker
Close Story