Amarnath terror attack: 'Kashmiri Islamist terrorists killed Hindu pilgrims' narrative is flawed
The narrative is wrong because the police have said a bus carrying pilgrims was caught in the crossfire when militants attacked a police post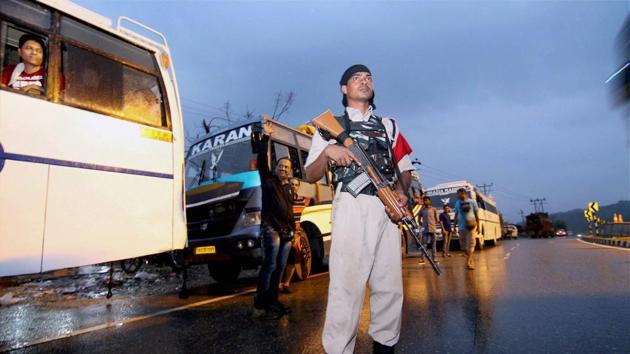 Updated on Jul 17, 2017 03:10 PM IST
About an hour after the killing of seven Amarnath yatris in south Kashmir on Monday, a childhood friend, now a management professional in Hyderabad, wrote on Facebook: "Do not shoot them. Kick them. Belch them. Cut them. Slice them. Desecrate them. Destroy them. Piece by piece. Hit them where it hurts the most. Kill them all."
It is unclear who he means by "them" in the post -- militants believed to be behind the killings or the common Kashmiri, often vilified in popular Indian narrative for having sympathies for militants and holding secessionist views.
But comments like these are only the tip of an iceberg of hate-filled posts doing the rounds in social media: For instance, wrestler Geeta Phogat tweeted: "Enough of condemning terror, we need to burn them alive now." Again "them" remains unspecified.
In contrast, however, every Kashmiri I know --- offline or online --- has strongly condemned the killings.
Even the Valley's leadership was quick to issue a statement, saying that the incident was "against the very grain of Kashmiri ethos".
The attack on Amarnath yatris comes at a time when there have been frequent incidents of violence against Muslims. It has also been seen that many a time anyone expressing views contrarian to that held by the ruling dispensation is labelled as "anti-national" or asked to "go to Pakistan"
The situation in the Valley, on the other hand, is marked by new-age militancy, overwhelming support for militants by civilians, emergence of videos of rights violations by security forces and sharp spike in counter-insurgency operations.
Moreover, there have been numerous incidents of common Kashmiris attacked or threatened in parts of India in the name of nationalism.
Under such circumstances, it isn't difficult to guess that the narrative of "Kashmiri Islamist terrorists have killed Hindu pilgrims" will probably be used to whip up passions of a section of Hindus against Muslims and specifically Kashmiris -- and that would be most unfortunate.
The narrative is wrong because the police have said a bus carrying pilgrims was caught in the crossfire when militants attacked a police post.
It will be a real shame for a country where Muslims are lynched in the name of cow protection, even if one Kashmiri Muslim is attacked or threatened in retaliation of this narrative.
@saha_abhi1990
Close Story
Personalise your news feed. Follow trending topics