Bet on private investment to revive growth in the economy
Updated on Nov 19, 2017 11:52 PM IST
The skewed balance towards imports needs to be corrected to encourage fresh investments by domestic companies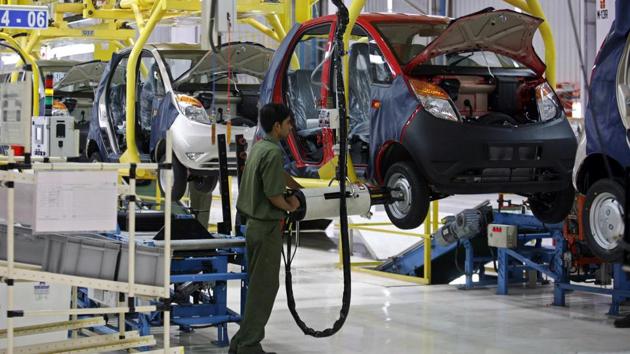 India's robust growth performance of last three years suddenly hit the speed breaker in first quarter of the current fiscal year. While this is largely transient given the teething troubles from GST implementation, nonetheless it underscores the urgency to address the structural and macro challenges being faced today.
Among the multiple headwinds facing the Indian economy, one of the biggest challenges is the declining rate of investments. Gross fixed capital formation in FY17 has been at a thirteen year low (27.1% of GDP) against an average of 33% between FY06 and FY13. The main contributing factor has been weak private sector investments. We must not forget that the private sector is a major contributor to overall investments in India with 37% share in capital formation. Foreign Direct Investments too, though rising, account for only one-fourth of total private investments. It is thus domestic private investments that form the bulk of private investments, and unless these accelerate, investment cycle will not see a turnaround.
Growth in private investments has remained weak primarily due to concerns related to demand, credit and regulatory challenges. Capacity utilisation rates in most industries continue to be around 70%-72%. Unless these reach optimal levels of 78-80%, fresh investments will not materialise. While overall consumption in the country has been picking up, it is ironical that domestic sales in several sectors have not benefited as much. The reason is a rapid surge in imports that has affected market shares of domestic enterprises.
The skewed balance towards imports needs to be corrected to encourage fresh investments by domestic companies. This requires a complete review of existing FTAs to ensure effective market access for Indian companies. The incidences of inverted duty structure should be corrected to provide a level playing field to domestic industry.
On the credit front, Indian industry is saddled with higher cost of finance. As per FICCI's latest Business Confidence Survey, average lending rate by banks as reported by firms currently stands at 12%. Higher interest cost is not only a dampener for large corporate houses but also for SMEs.
While there has been considerable action to improve the financial health of the banking industry (especially with the amendment of Banking Regulation Act and setting up of Insolvency and Bankruptcy Code), there is also a need for development finance institutions to cater to the long-term funding requirements for sectors like infrastructure.
Further, a cut of at least 100 basis points in policy and lending rates is also desired to propel demand for interest-sensitive sectors such as consumer durables, auto and housing. Now that the government has announced a major recapitalisation plan to the tune of Rs 2.11 lakh crore for public sector banks, we are hopeful that going ahead the credit cycle will strengthen alongside lowering of lending rates.
To promote the culture of entrepreneurship, there is a need to remove fear psychosis among entrepreneurs by strengthening the trust between the industry and banking sector as also with bureaucracy. The government should consider amendment of the provisions of Prevention of Corruption Act that hinder the decision making ability of the bureaucracy, who are key in implementing the national development agenda.
Further, in several sectors such as telecom, pharma, power, automotive and agribusiness, there have been far-reaching regulatory changes that have impacted or could impact the performance of these sectors. While entrepreneurs are game for business risk, they seek certainty in policy and regulations. Today, reviving investor confidence should be a priority. The development benefits of policy interventions aimed at reviving investor sentiment need to be clearly spelled out, especially in terms of employment generation outcomes.
Pankaj R Patel is President, FICCI
The views expressed are personal
Personalise your news feed. Follow trending topics