Caste politics, religion and 'Modiji': What impacts Bihar's voters
Oct 22, 2015 12:33 PM IST
The Narendra Niwas in Sagarpur is just off the four lane highway, as one turns towards Madhubani.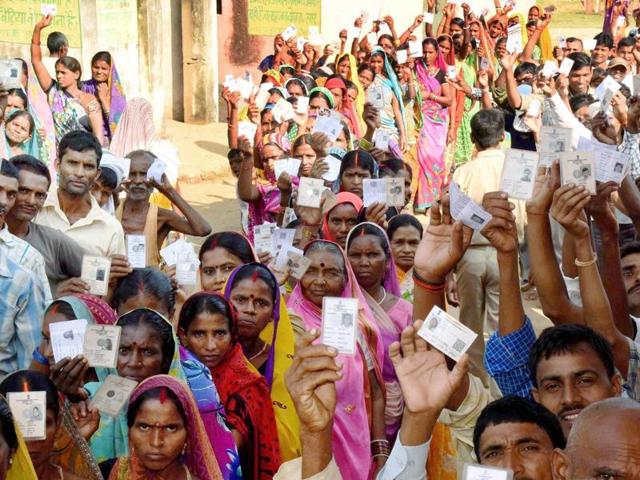 I met two gentlemen, sitting in their lungis, early in the morning in their house courtyard. Narendra Mishra was older, he had been in the village all his life and took care of the fields. His grandson, Ram Kumar Mishra, had retired from the Bihar Police. Ram Kumar's children worked in private companies in Delhi and Mumbai.
When I told him I was travelling around to cover the elections, Ram Kumar said, "We are with Modiji. "And BJP will win." I asked him to explain what would be the caste arithmetic for this. "All forwards - Brahmans and Bhumihars -- are together. And so are the Dalits and ati pichdas, extreme backwards."
But wasn't it a problem that BJP had no chief ministerial candidate? "Did Indira Gandhi have CM candidates when state elections were held? We were then Congress voters. Congress won, she nominated, and the person became CM. That is what Modiji will do."
My interest was piqued at their past association with Congress. The party was once a coalition of upper castes, Muslims and Dalits. Upper castes like the Mishras had then moved away to BJP.
Why did they switch? The elderly Narendra stepped in, "Congress started encouraging these 'neech log' who worked on our fields to ask for more wages. When we said anything, they asked them to file cases against us." Ram Kumar added, "Congress started it, Karpoori Thakur made it worse, and everything was ruined by Lalu and Nitish. Things were good before that."
'Neech log' is not exactly translatable. A literal interpretation would be the lower classes and castes, and the backwards. But it does not adequately convey the contempt inherent in the term. Congress and its successors had given the 'scum' a voice, the Mishras did not like it. The nostalgia for an era where they prevailed was deep, and the yearning to bring it back had not faded.
A mukhia's calculations
I walked around in the village and came across a group of young men. One of them worked in a hardware shop in Delhi and had just returned home for the Vijaya Dashmi festival. His brother worked in Patna, and the third stayed home, studying close by in Darbangha. We chatted about how life was different in the village and cities, when Rajaram Yadav -- Sagarpur's village mukhia -- stopped over.
Yadav said he was not associated with any party because for the panchayat elections, he had to seek the support of all sections of society. "If I go with the RJD, the upper castes won't vote for me. If I go with the BJP, the Muslims won't vote for me. So it is better to be independent and be good to everyone. I have to save my politics." Yadav gave me the village demographics -- there were 2800 Muslims, 1200 upper castes, 1200 Dalits, a 1000 EBC voters and 500 or so Yadavs.
The mukhia said the Mahagatbandhan had an edge because the election had turned into a forward versus backward battle. "Look the mass vote happens on the basis of caste. Some people may vote on their own; within castes, there will be splits. But votes are still organised largely on caste. And this election is like the 1990s again. Except forward castes and some EBCs, most groups are with the alliance." He added that the candidate would also make a difference and there was anti incumbency against the sitting BJP MLA.
I asked him why he thought the backward consolidation had happened, and whether RSS chief Mohan Bhagwat's remarks had played a role. Yadav did not think so. "BJP was in government when Nitish introduced reservations in Panchayats. I don't think they are anti reservation. But the mood is not with them this time."
Yadav added since BJP came to power at the Centre, funds for MNREGA and Indira Awas had dried up, and money wasn't coming into rural areas to the same degree. "This is adding to the discontent."
One of the young men we had been talking to earlier, Krishna Thakur, also stepped in and added there was a feeling that vacancies for government positions had gone down in the past year. "Be it railways or central forces, there seem to be fewer vacancies and jobs available." The youth, he said, was not as happy with BJP as the party thought.
Muslims' fears
The tea shop is the best place to pick local gossip on the campaign trail, and I found one at the Pirganj crossing. Pirganj is a Muslim dominated village (800 out of 850 residents are Muslims) in Purnea, a few kilometres from the town.
Mohammed Jahangir Alam had studied upto Class 8, but was well informed about the latest twists in national politics. He had a mobile phone with 3G where he read Hindi newspapers; he also watched TV news obsessively. His father was a teacher, two brothers were engineers and one was a doctor.
Alam said they would vote for either the local Congress candidate or an independent candidate who had not been given the Congress ticket this time around. "The main aim is to defeat BJP. So we will decide accordingly."
I asked him why he thought defeating BJP was so important. "Don't you see what Modi sarkar is doing? Don't you see what happened in UP, in Kashmir? They want Hindus and Muslims to fight."
But is Modi getting this done? Aren't these random incidents? Why blame it on the Centre? Alam had a quick response, "They have already said that if Muslims want to live here, they should do so according to Hindu ways, eat like Hindus. Tomorrow, they will tell us we have to dress like Hindus." He added that some Muslim sub castes were also eligible for reservations within the OBC category, and BJP may remove it given Bhagwat's recent statements.
Alam added the local MLA was from the BJP but had not come to their village even once. "He has done no work here because he thinks he will never get any votes from here. Why should we trust the party?"
I asked him, provocatively, did this make it a Hindu-Muslim election in that case? "No. Muslims cannot get anyone to win on their own. Many Hindus don't like what's happening also. So it will be a joint vote." He was dismissive of the Owaisi factor, and said he had only come in to help BJP by splitting Muslim votes.
Alam was confident and his responses were political. I could not help asking him if he wanted to join politics. "If someone gives me a chance," he said. "Chaliye, we will meet when you are an MLA next," I said, with others in the shop ribbing Alam about it.