India and Pakistan can both benefit from Chahbahar
Jun 01, 2016 10:41 PM IST
The Iranian ambassador to Pakistan is reported to have said that the agreement is not limited to India and Afghanistan, and that both China and Pakistan are welcome to join the deal.
After Prime Minister Narendra Modi's visit to Iran, many analysts argued that the Chahbahar agreement is a strategic move by New Delhi to bypass Islamabad. It was also projected as a move to counter the China-Pakistan Economic Corridor (CPEC), being built by Beijing under its One Belt, One Road (OBOR) project. Pakistan PM Nawaz Sharif's top aide Sartaj Aziz said that Pakistan welcomes regional connectivity projects and that "there is a proposal to make Gwadar and Chahbahar sister ports and a road is also being built between them". The Iranian ambassador to Pakistan is reported to have said that the agreement is not limited to India and Afghanistan, and that both China and Pakistan are welcome to join the deal.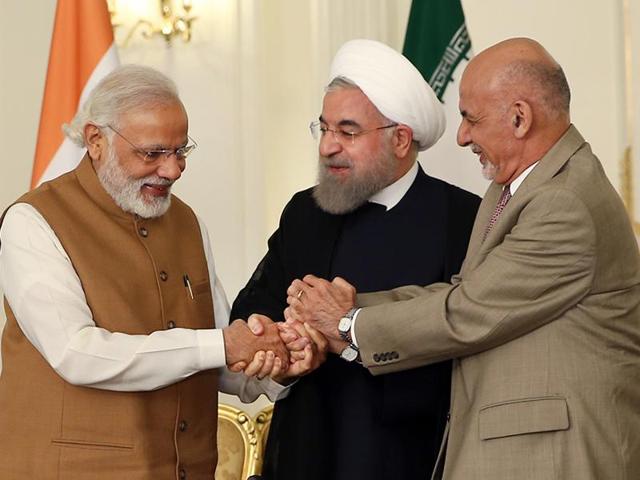 Some may argue that through these statements Islamabad is trying to underplay the importance of India's strategic move. However, these developments indicate the importance of regional connectivity projects that go beyond zero sum calculations of geopolitics. The geo-economics of Chahbahar, CPEC/OBOR may perhaps push policy-makers to recalculate their strategies. To be economically viable and successful, all these initiatives and projects will need to be linked together in the long run. Therefore, to be effective, the CPEC will also need to be linked with the huge Indian market. Despite Indian concerns about the CPEC, China may not view the Chahbahar project negatively. More connectivity will help China as Beijing is one of the largest trading partners of almost every country in the region.
The successful implementation of the Chahbahar project may re-energise the International North-South Trade Corridor (INSTC). This will bring India closer to the Eurasian Economic Union (EAEU), which includes Armenia, Belarus, Kazakhstan, Kyrgyzstan and Russia. India has already set up a joint study group to explore the possibility of signing an FTA with the EAEU. Moreover, India and Pakistan will be joining the Shanghai Cooperation Organisation (SCO) this year. Iran is also expected to join soon. These political and geo-economic developments may force Pakistan to relook its trade and transit policy towards India.
Sensing broader economic gains, ultimately Islamabad may allow Indian goods to pass through its territory. This will happen not because of any change of heart but due to the fact that Indian trade volumes will play an important role in making some of these infrastructure projects economically viable. To make the Chahbahar port less attractive, Islamabad may also allow extension of the Afghanistan-Pakistan Transit and Trade Agreement (APTTA) to India. Initial work is already underway on extending the agreement formally to Tajikistan. Once the APTTA is expanded to include Central Asia and India, this small initial project could become a serious economic force of integration.
In the long run, it is economics that will determine whether companies will use Gwadar, Chahbahar, Karachi or some Chinese port. Despite massive Chinese investment in the CPEC, Gwadar may not be attractive immediately due to unrest in Balochistan. In comparison, Chahbahar once built could be more business-friendly. The success of Chahbahar could also impact Gwadar positively. Taken as a whole, two new ports connected with each other will definitely improve their own relevance and integration of regional economies.
The OBOR project and the Chahbahar initiative have three major lessons. First, despite geopolitical competition, nations will be attracted to infrastructure projects linking their economies. Despite initial suspicions, many OBOR corridors may find support in India in the coming years.
Second, determined political leadership and resource commitment are crucial. The Chahbahar project has been under discussion for years. It is the Modi government which is to be credited for providing resources and putting its political weight behind the project. Earlier, the successful implementation of the Afghanistan-focused Northern Distribution Network (NDN) showed that positive results could be achieved even when negotiations involve strategically competing nations. The NDN was a network of rail and road links across Russia, Central Asia and the Caucasus that provided a commercial, logistical corridor to ISAF forces in Afghanistan. The beginning of the construction on the Turkmenistan-Afghanistan-Pakistan-India (TAPI) gas pipeline at least on the Turkmenistan sector could be another example.
Third, the success of these projects will depend on the economic integration of different parts of Asia rather than genius strategic calculations. One major reason for the slow implementation of the INSTC is not because of the lack of political commitment by Russia, Iran or India, but the still limited India-Russia trade, which was supposed to boost the trade volumes for this route. In the absence of large volumes, shipping companies still prefer their original routes with established logistics. Even for Chahbahar, India must have a full business plan as initial trade volumes to Afghanistan and Central Asia may not be enough to fully justify investments.
Overall, the timing of the Chahbahar initiative is perfect. After the lifting of sanctions, Iran is now open for business. Now Indian energy companies are likely to purchase more Iranian oil, make swap deals and invest in Iranian oil fields where they have already made discoveries. This will also help India to expand its options in Central Asia. The situation in Afghanistan is unfolding rapidly. With most western forces out, Mullah Mansoor dead and the peace process in disarray, Kabul is looking for new options beyond Islamabad. The OBOR and EAEU will see China and Russia integrating more than ever, and as India and Pakistan will meet regularly at various SCO forums, their own economic integration can be linked with larger economic trends rather than be boxed in by South Asian politics.
Gulshan Sachdeva is a professor at the school of international studies, Jawaharlal Nehru University
The views expressed are personal
Read | 'Trade route linking Chabahar a security threat to Pakistan'
Read | Afghan-India ties 'extraordinary', but Kabul backs China-Pak corridor