India's diagnosis of Nepal situation is right
Sep 27, 2015 02:50 AM IST
Even at the cost of becoming unpopular in Kathmandu, New Delhi is right in suggesting a fresh constitutional deal, writes Prashant Jha
Travelling across the Terai and Nepal-India border this past week has been a lesson in how little states learn from the experiences of other states. Real and perceived identity-based discrimination, an angry community searching for dignity, the unwillingness of an almost racist ruling elite to share power and a militarised State response have all produced toxic conflicts elsewhere in South Asia. Nepal is unfortunately on the verge of joining this club.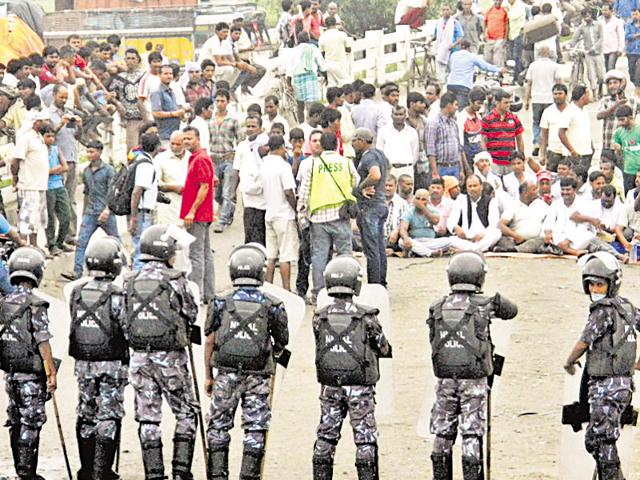 Nepal's new constitution does not address a fundamental faultline in its politics, where sections of hill upper-caste elite control the power structure, while many other social groups are excluded from it. This is particularly intense in the case of the Madhesis and Tharus of the plains, who share close ethnic and cultural ties with people across the border. They are underrepresented in State structures.
The constitution was meant to be an opportunity where all social groups together drafted a social contract — instead, all Terai parties stayed out of the process. It was meant to create a more inclusive federal political order — instead, it reduced political representation for the Madhesis, diluted principles of affirmative action and created provinces in a manner that would entrench elite rule. It was meant to be a defining national document — instead, it has divided a nation and created categories of citizenship with some more equal than others.
For over 40 days, a mass movement against these constitutional provisions is underway in Terai. In the plains, there is a common refrain — this is injustice; we want rights and equality; and this is an 'aar ki paar', their decisive, battle.
The State's response has deepened alienation and reinforced the perception of being second-class citizens.
In Mahottari district, Binay Chaudhary's father and son were both killed by security forces. The son, Rohan, was returning from his tuition when the police shot him in the chest; two days later, his grandfather, Ganesh, was in a market when he was shot in the head. A child in a Rupandehi district vegetable bazaar was killed in indiscriminate firing. Tales abound of police entering homes of Madhesis, branding them Biharis and 'dhotis', and harassing residents. There have been incidents of violence from the side of protestors, but human rights groups agree the State response has been wildly disproportionate.
The protests have now become so widespread that the State has had to retreat from large parts of rural Terai. This is striking, for it was only by the fifth year of the Maoist armed rebellion that the State apparatus had to retreat to the district headquarters.
These are the precise ingredients for an ethno-nationalist movement, which takes a separatist turn. It is now quite common to hear younger Madhesis on social media and Terai streets talk about a 'Madhes rashtra'. The Terai's movement is peaceful, and is led by the Madhesi moderate political leadership at the moment, which seeks a respectful constitutional deal. But in private conversations, they confide feeling squeezed by th e increasing radicalism.
It is in this backdrop that New Delhi has, rightly, chosen not to welcome the Nepal constitution. India is wrong not because it has 'interfered'; it is wrong for not intervening, more forcefully earlier. Nepal has always been a partly sovereign country; New Delhi has played a key role in shaping political outcomes and suddenly expecting it to have a hands off approach at the climactic moment of the peace process it facilitated betrays an ignorance of history.
New Delhi can see what Kathmandu is choosing to turn a blind eye to. The Terai is on fire; the problem is political and grievances are deeply felt; society is polarised. A Sri Lanka redux in Nepal is possible — and New Delhi does not want to deal with a separatist conflict at its border, where the agitating community shares cultural links with Indians. Already, the border population in Bihar is extending support to the Madhesis.
The demands are not intractable. A constitutional amendment that revises federal boundaries, provides for constituencies based on population, proportionate inclusion in State organs and equal rights to naturalised citizens is the way out. But the longer the movement continues, the longer the State engages in oppression, radicalisation will deepen and solutions will become more difficult.
Each time there has been a battle between the forces of the status quo and reform in Nepal, the former has used the 'nationalism' card to discredit progressive movements. Monarchs called democrats 'anti-national elements' and blamed India; the Nepali Congress accused Maoists of being part of an Indian plot. The hill elite are labelling the Madhes movement as an Indian design to weaken Nepal.
New Delhi should not let this ultranationalist and conservative politics affect its calculations and stay the course in pushing for an inclusive constitutional settlement. The Indian liberal intelligentsia and civil society should not buy into the 'smaller neighbour is being bullied' narrative and see through the discriminatory power structure and human rights tragedy unfolding in Nepal.
Kathmandu's leaders should understand that the real problem is internal and address domestic discontent. Terai leaders are using an ominous Mahabharat analogy. When the Kauravas refused to part with five villages, they had to lose the entire kingdom. If the hill elite chooses to remain rigid on a few district boundaries in the Terai at the heart of the federal dispute, they may well have a long battle ahead to defend the unity and integrity of the Nepali State.