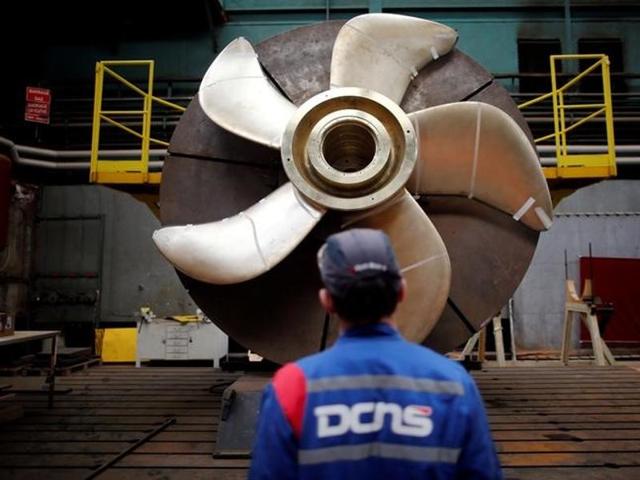 Understanding Scorpene leak: Why India's next-gen subs are now vulnerable
The fact remains that the vessel's intelligence-gathering frequencies, radiated noise levels, diving depth, range and endurance, infra-red data, and weapon specifications are now floating around the private sector. Let there be no doubt: India's next generation of submarines are now more vulnerable, thanks to this breach of operational security
By Shashank Joshi
UPDATED ON AUG 26, 2016 11:20 AM IST
To understand the Scorpene leak, cast your mind back 13 years ago, as the US and India prepared for the fifth of what would become the annual joint naval exercises known as Malabar. Washington made a particular request to New Delhi: Would the Indian Navy bring along the INS Sindughosh? The Sindughosh was the first of India's Russian-built, 1980s-vintage Kilo-class submarines, once dubbed "the black hole" for their ability to operate quietly and evade detection at sea. Not coincidentally, Iran had taken delivery of three Kilo-class submarines in the 1990s. The Indian Navy demurred. "Stealth is the key when it comes to submarines", explained one officer at the time. "If they are operated in close proximity, their distinctive underwater and acoustic signatures, emissions can be made out". Last year, India reversed this position. The INS Sindhudhvaj, another Kilo-class, was dispatched to the Bay of Bengal, where it was pitted against an American nuclear-powered counterpart. "The Sindhudhvaj", boasted another Indian officer, "recorded the Hydrophonic Effect (HE) — simply put, underwater noise — of the (American) submarine and managed to positively identify it before locking on". In the customarily breathless language of after-action reports, the Americans were "annihilated".
Read | India should be worried about the Scorpene data leak case. Here's why
Sound, then, is everything in under sea warfare. This is precisely the point of diesel-electric powered submarines. They lack the endurance, speed, and indeed prestige of nuclear-powered boats. But, when running on electric motors, they are concealed from their predators and prey through near-silence, while the coolant pumps of nuclear subs blare out its location. When recharging, their noise can be hidden amongst that of diesel-powered ships that criss-cross busy the shipping lanes of the world. Not only can their smaller hulls manoeuvre more easily, but they can evade sonar devices by settling on the shallow ocean floor and turning off their equipment — an option unavailable to nuclear boats. In congested, littoral waters — think the coast off Karachi, or busy chokepoints like Malacca — these advantages are substantial. As Indian naval ambitions grow in scope and scale, nuclear-powered submarines — both for conventional operations and nuclear deterrence — will become increasingly important parts of the fleet. But diesel-electric boats — eventually those with the less oxygen-hungry Air Independent Propulsion (AIP) — will be the backbone of the service for decades to come.
Read | India assesses vulnerability of Scorpene submarines after leak of secret data
When India put the first of its Scorpene-class, INS Kalvari, to sea in May this year, it was these advantages that it had in mind. Submarine numbers had stalled, whittled down by accidents and sluggish procurement, falling steadily from 19 boats in 2005 to 14 today. This is the lowest level in almost 30 years. India is outranked in submarine numbers by Japan (18), South Korea (23) and China (70). Pakistan operates a modest but sophisticated trio of French-built Agosta 90B submarines, the oldest of which is a sprightly 17 years old. And despite plans for expansion, Indian submarine numbers will plateau at around 20 boats in the 2020s, compared to China's 50-plus, despite the range of new demands — such as escorting carrier battle groups — that will stretch the force more thinly.
And so we come to this week's "leak" of data on what was supposed to be the fresh blood: The six Scorpene boats, with a potential — and now, surely, improbable — order for three more. In some respects, India can count itself lucky. The Australian, the newspaper which broke the story, is more interested in putting pressure on the Australian government over its own controversial submarine procurement, in which France's DCNS — the apparent source of the leak — beat out German and Japanese competition, than in trickling out the full 22,000-plus pages of secret information, most of which would be both crushingly dull and devoid of public interest. Equally important is that the leak dates to 2011, when the Kalvari was still under construction in Mumbai. The data mentioned in the leaked files, valuable as it would be in un-redacted form, must be derived either from contractual parameters, data from the Malaysian and Chilean Scorpenes in operation, or — most likely — computer simulation. The Kalvari's precise acoustics will differ, in ways that even India may not know, for acoustic trials have not yet been completed.
Read | Indian subs more vulnerable after leak, UK experts
And yet, the fact remains that the vessel's intelligence-gathering frequencies, radiated noise levels, diving depth, range and endurance, infra-red data, and weapon specifications — all of which can be changed from pre-construction specifications only to a limited degree — are now floating around the private sector and at least one newspaper in Southeast Asia and Australia, ripe for the picking by a Chinese intelligence service which has made an art of industrial-scale espionage in the defence sector. Let there be no doubt: India's next generation of submarines are now more vulnerable, thanks to this breach of operational security. When, in the future, a Chinese Yuan-class sub seeks to slip past the Nicobar Islands into the Indian Ocean, or a Pakistani Agosta hunts an Indian attacker prowling off the Makran coast, they will bring to bear a non-negligible psychological and operational advantage.
Shashank Joshi is senior research fellow, Royal United Services Institute.
The views expressed are personal
Close