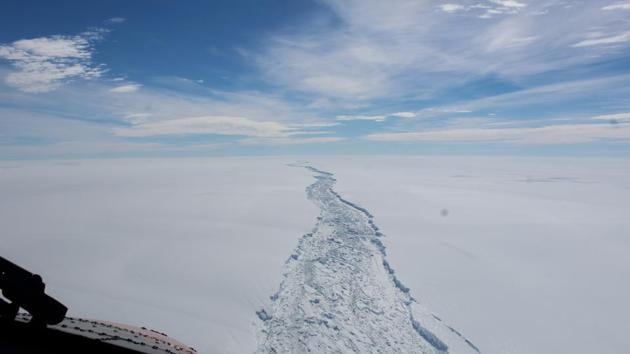 India will be in trouble if breakaway Antarctica iceberg leads to sea level rise
A rise in sea levels is certain to impact India badly since the country has a long and densely populated coastline.
By Rais Akhtar
UPDATED ON JUL 18, 2017 11:00 AM IST
One of the biggest icebergs on record broke away from Antarctica on Wednesday. The one-trillion tonne iceberg, measuring 5,800 square km, which is equal to four Delhis, calved away from the Larsen C Ice Shelf in Antarctica between July 10 and 12.
The iceberg, which is likely to be named A68, was already floating before it broke away so there is not immediate impact on sea levels, but the calving has left the Larsen C ice shelf reduced in area by more than 12%. The Larsen A and B ice shelves, which were situated further north on the Antarctic Peninsula, collapsed in 1995 and 2002 respectively.
"This resulted in the dramatic acceleration of the glaciers behind them, with larger volumes of ice entering the ocean and contributing to sea-level rise," David Vaughan, glaciologist and director of science at British Antarctic Survey told Reuters.
"If Larsen C now starts to retreat significantly and eventually collapses, then we will see another contribution to sea level rise," he told Reuters. Falkland islands and coastal areas of Argentina including the coast of Buenos Aires Province, and northeastern Brazil are already vulnerable to sea level rise may be in danger with melting of this iceberg.
Sea level rise and India
If there is eventually a rise in sea level, it is certain to impact India badly since the country has a long and densely populated coastline. In 2016, a United Nations report said that nearly 40 million Indians will be at risk from rising sea levels by 2050, with people in Mumbai and Kolkata having the maximum exposure to coastal flooding in future due to rapid urbanisation and economic growth.
In 2013, the IPCC estimated an increase in sea level of somewhere between 30cm and 100cm by the year 2100. But more recent research has suggested the great ice caps are more vulnerable than expected in a warming world and that ocean levels could rise more rapidly to reach 200-300cm by the end of the century.
India has already started seeing effects of sea level rise in places such as Sundarbans and Majauli, one of the largest riverine islands in the world.
Any rise in sea level will also lead to economic loss of coastal communities and spark inland migration.
All countries are vulnerable
However, I disagree with the assessment that it is only the coastal areas of India, China, Bangladesh and other South and Southeast Asian regions that are more vulnerable than that of US and European coastal cities.
I assert that Climate change will impact both developed and developing countries equally.
The impact of flooding and destruction of roads in Colorado, US, and in Uttarakhand in 2013 and flooding in Kashmir in 2014 are a reflection of the fact that natural disasters affect all regions of the world.
The US's east coast is experiencing sea level increases above the global average, possibly due to a change in the Gulf Stream, which is causing warmer water to pile up along the Atlantic seaboard.
The European scenario is not good either. For example, consider The Netherlands. It is a low-lying nation, with a sophisticated agricultural sector and high population density. Half of the country is lower than a metre above sea level, with an eighth of the country lying below sea level. Any rise in sea levels could impact this country drastically, leading to social and economic devastation. Projections also suggest that by 2050 most European countries will be impacted by severe flooding, as was experienced in England in February 2014.
Renowned scientist Mark Kaufman estimates that the recent iceberg may cause 0.1 millimetre rise in the sea level. Nevertheless if it floats towards the northern Atlantic Ocean, it may influence the warmer Gulf Stream as well as shipping routes in the Atlantic Ocean.
The eastern coastal areas from Boston to Washington DC are more vulnerable as was seen in 2012 when the region was impacted by Hurricane Sandy . An article in the New York Times even went so far as to suggest that "homeowners are slowly growing wary of buying property in the areas most at risk, setting up a potential economic time bomb in the industry that is struggling to adapt", particularly in Miami and Florida regions.
Rais Akhtar is former professor of Geography, University of Kashmir, Srinagar, and also the lead author of the Third and Fourth assessment reports of the Intergovernmental Panel on Climate Change
The views expressed are personal
Close