Instant triple talaq: Supreme Court verdict is a landmark for gender justice
Aug 22, 2017 05:29 PM IST
In the 31 years since the passing of the Muslim Women (Protection of Rights under Divorce) Act , the Supreme Court has consistently batted for the rights of minority women
A majority ruling of the Supreme Court has declared instant triple talaq unconstitutional and unIslamic. It has asked Parliament to 'put aside politics' and frame an appropriate law. Starting now, the practice is invalid and it is up to Parliament to frame an appropriate law that will make it illegal as well. This is a ruling that is both in sync with Constitutional propriety – law-making is Parliament's prerogative – and the principles of natural justice.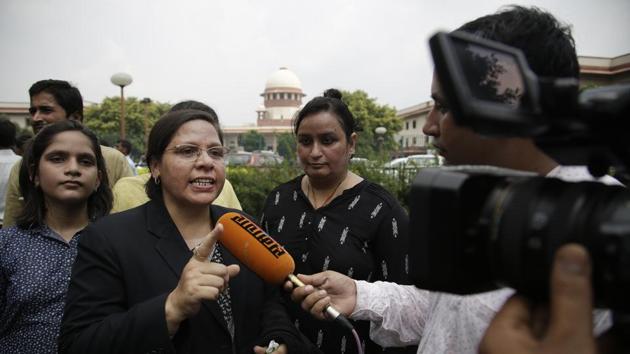 Parliament has not exactly crowned itself with glory when it comes to gender justice for minority women, starting from the ironically-named Muslim Women (Protection of Rights under Divorce) Act passed by the Rajiv Gandhi government in 1986. The Act was brought in to overturn and subvert an earlier Supreme Court ruling to grant maintenance to Shah Bano, a 62-year-old Muslim mother of five who had been divorced by her husband. What Parliament essentially did was to limit divorced Muslim women to maintenance only for the iddat period (roughly three months) after which they would have to depend on the charity of relatives or Waqf boards.
Yet in the 31 years since the passing of that act, the Supreme Court has, to its credit, consistently batted for the rights of minority women. When Danial Latifi, incidentally, Shah Bano's lawyer, appealed against a High Court ruling ordering him to pay Rs 179 a month to his divorced wife for 43 years, the Supreme Court ruled that the Muslim Women Act had to be read in conjunction with the Constitution that guarantees dignity and equality to women.
When a two-judge bench in 2015 observed that polygamy was not 'an integral part of religion' or gave Muslim women the right to adopt or asked the government to make amendments to an arbitrary rule under which Christian couples seeking a divorce had to be separated for two years, instead of the one by couples from other religions, it was in effect coming to the aid of the rights of women.
Yet, 70 years after Independence, gender justice cannot be an abstract idea to which we have a piecemeal approach. The Supreme Court's own recent rulings on, say 498A, a section that is undoubtedly misused but nevertheless a section that is needed to protect victims of the ongoing dowry malaise, leave a lot to be desired. There was criticism too of a recent ruling on 'love jihad' or the decision to marry a man outside her religion by an adult woman.
Certainly, we must ask why the Supreme Court took up triple talaq with such a sense of urgency during vacation time but chose to ignore a demand for a ban on other heinous practices like nikaah halala (a process by which a Muslim woman must consummate an intervening marriage before she remarries a divorced husband) and polygamy by the petitioners.
And certainly, we must be concerned by the lack of gender diversity within the august benches of our Supreme Court. While much is made of the representation of women in Parliament where they comprise an all-time high of a pathetic 11.3% per cent, relatively little noise is made about the fact that of the 229 judges appointed to the Supreme Court since 1950, only six have been women and at present only one of all Supreme Court judges at present is a woman.
Gender justice that includes diversity and representation cannot be a neat little slogan. It must be performed and demonstrated every day and everywhere. Nobody wants to rain on a grand moment for gender rights, which is what the present Supreme Court judgment undoubtedly is. But equally, this is as good a time as any to push and ask for a society where afflicted women don't have to approach the courts to demand their most basic human rights and where courts don't have to remind Parliament of its function in protecting the rights of 48.5% of our country's citizens.
If there is a hero to be found in this historic moment it is the collective women petitioners who took it upon themselves to knock on the doors of the Supreme Court and demand that it listen to their plight. My friends at the Bharatiya Mahila Muslim Andolan have braved ostracism and abuse in their long journey to judgment day.
India is a changed country since the over three decades of the Shah Bano judgment. If any proof was needed of that, it is in today's judgment in response to a new generation of women who will not suffer in silence any longer. But while it's not out of place to take a moment to celebrate a hard-won victory, let's not delude ourselves that the battle has been won.
Namita Bhandare writes on social issues and gender.
The views expressed are personal.