How India's intervention in Bangladesh shaped south Asia
The creation of Bangladesh is seen as Delhi's most successful intervention but the relationship is now marred by contentious bilateral disputes.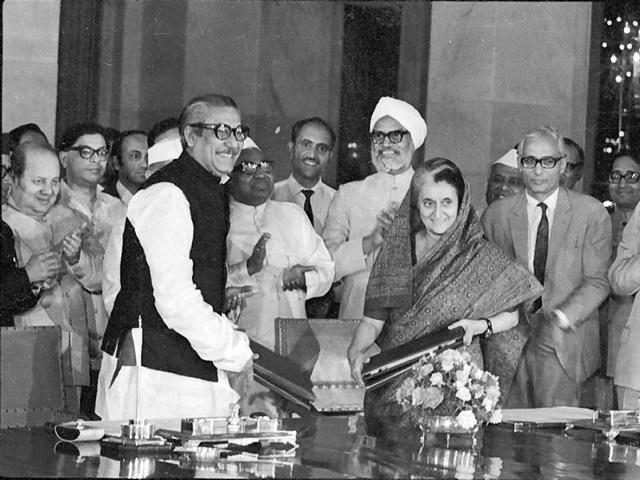 Updated on Sep 22, 2016 12:34 PM IST
On the night of July 1 this year, five young men attacked a Dhaka cafe and took control of hostages. By the next morning, 29 people were killed. The incident reflected growing Islamist radicalisation of a section of Bangladesh's youth and represented how far the country had come from its original vision of a secular, plural and tolerant state.
Take another instance. Each time Bangladesh's International Criminal Tribunal decides to sentence those complicit in the 1971 mass killings — men who aided the Pakistan Army in suppressing liberation forces, and are seen as traitors — the decision is greeted with a sense of vindication by the ruling Awami League. But it also sparks outrage and anger among the Opposition Bangladesh Nationalist Party and its key ally, Jamaat-e-Islami, many of whose leaders have been hanged.
In many ways, Bangladesh is still fighting the battles of 1971. The domestic political tension between the two Begums — Prime Minister Sheikh Hasina and Opposition leader Khaleda Zia — itself emanates from a debate over 'who owns the narrative of 1971, and who secured freedom', as Salil Tripathi, the author of a book on Bangladesh's modern history, puts it.
India played a part in these events; it has been considered Delhi's most successful neighbourhood intervention. But the intervention did not create the kind of pliant state that Delhi would have hoped. As India prepares to engage with another internal movement in Pakistan, the experience offers lessons.
The verdict undermined
In the December 1970 elections in Pakistan, Zulfiqar Ali Bhutto's Pakistan's People Party won 88 out of 144 seats in the west; Sheikh Mujibur Rehman's Awami League — who had promised autonomy — swept the east, winning all but two of the 169 seats. This gave him an absolute majority. The mandate was an outcome of the accumulated resentment among the Bangla-speaking east against the political, economic and cultural domination of the Punjabi-dominated West Pakistan establishment. The establishment could not tolerate the prospect of being ruled by Mujib, nor countenance a polity with autonomous units. Bhutto had another personal element: he wanted to rule Pakistan himself.
President Yahya Khan postponed convening the assembly. Rebellion broke out in the east. The army was sent in to crack down on protests.
Mujib asked for Indian help — military and food supplies, communication and transportation facilities. Historian Srinath Raghavan reveals in his book, 1971, that initially India was 'circumspect'. As late as 1970, there was a fear that an independent East Pakistan may unite with West Bengal to form a unified Bengal. Delhi also thought that Islamabad and Dhaka may well come to an agreement soon. It was also not sure of Mujib, who had kept a 'distance from Indian contacts'.
The triumph
But the repression continued. Together with a section of loyalists called Razakars, the Pakistan Army launched a brutal campaign and mass killings — the current tribunal seeks to bring these crimes to justice. This slowly led to an exodus of millions of refugees into India, with camps set up across eastern states. Indian public opinion was now furious at the evolving genocide.
In his important book, The Blood Telegram, Gary Bass writes India was "motivated by a mix of lofty principle and brutal realpolitik". Pakistan was an enemy, and this was an opportunity to split, weaken and devastate it.
By the summer, India was training guerrilla fighters who constituted Mukti Bahini — but even at this stage, it was not contemplating a direct military role. India also stepped up its international campaign, conveying to the world Pakistan Army's aggression in the east and the burden of refugees on India.
The US, despite relentless Indian efforts, did not lean enough on Pakistan to stop its killings and find a political solution; China too supported Pakistan. The US position was driven by president Richard Nixon and diplomat Henry Kissinger — despite the opposition from Archer Blood, the American Consul General in Dhaka. This pushed PM Indira Gandhi closer to the Soviets, and in August 1971, signed a treaty with the USSR.
Meanwhile, border tensions grew. In early December, Pakistan attacked and war broke out. The Indian army, with the support of Mukti Bahini and East Pakistan civilians, now made its way into the east. It recognised the provisional government of Bangladesh. By mid-December, Pakistan had surrendered.
Indira Gandhi announced, "Dacca is now the free capital of a free country."
India was elated. It was, as the public intellectual and political theorist Pratap Bhanu Mehta has put it, "one of the world's most successful cases of humanitarian intervention against genocide". India had, he suggests, applied the Responsibility to Protect Principle, much before it was designed.
Sreeradha Datta and Krishnan Srinivasan capture the mood following the victory in an essay in the Oxford Handbook of Indian Foreign Policy, "This was the death blow to Jinnah's two-nation doctrine; Indian foreign policy had triumphed, backed up by force of arms. The Americans and Chinese...had been trumped, leaving a compliant and secular Bangladesh, grateful for the Indian sacrifice and support." The cheer was understandable; but all the assumptions did not turn out to be accurate.
What worked, what didn't
Looking back, Tripathi told HT India played its hand 'brilliantly'. "It was right on the moral and legal plane. It observed international refugee law and allowed refugees regardless of religion or language. It internationalised their tragedy. It offered space to the government in exile. It offered tactical and technical support to sector commanders of the liberation army. Its intelligence operators scanned the territory." And he adds, "India waited and waited, and did not pre-empt military action. It was also wise in withdrawing troops within three months."
Raghavan has a somewhat mixed assessment, feels there was nothing inevitable about Bangladesh's creation or Indian capture of Dhaka, and notes Indira Gandhi's assessment was "more tentative and improvisational than is usually assumed". He is also sympathetic to the late strategic guru K Subrahmanyam and Mujib's view that India should have intervened earlier, in the summer of 1971, which would have saved many lives, and limited the flow of refugees and pain of displacement.
The intervention did split Pakistan and tilt the balance of power sharply in India's favour. But contrary to Indian hopes, Dhaka was no puppet. And there cropped up contentious bilateral issues — from security to water disputes.
Within four years of the liberation, the army had taken over, Mujib's whole family was assassinated, except his daughter, Sheikh Hasina, the Islamic — rather than the Bengali identity — of Bangladesh was emphasised, and India was left with barely any role. With the return of democracy in 1990, one pole of Bangladeshi politics was taken over by BNP, which defined itself in terms of opposition to India, flirted with Islamism, and turned a blind eye to terrorism as well as attacks against minorities.
With the Awami back in power, through an election which the BNP boycotted, India today has a friendly government, but the politics remains fluid and contested. The radicalisation has been shepherded by Jamaat — which opposed liberation in the first place — as an increasingly authoritarian Awami claims to defend the founding values of the nation.
What is, however, not in doubt is that 1971 had huge consequences. From the Simla Agreement, which formalised the LoC in Kashmir, to deep feelings of humiliation in Pakistan, which has driven — at least partly — its Islamist turn, Kashmir policy or Kargil adventure and the nature of political competition in Bangladesh itself, India's intervention has shaped South Asia since.
Close Story
Personalise your news feed. Follow trending topics