Rajinikanth's political foray has come too late
Updated on Jan 01, 2018 06:48 PM IST
Dravidian parties would do well to study the setbacks suffered by Telugu Desam in undivided Andhra Pradesh with the adoption of a similar strategy in propping up Chiranjeevi by floating a small party before being ultimately swallowed by the Congress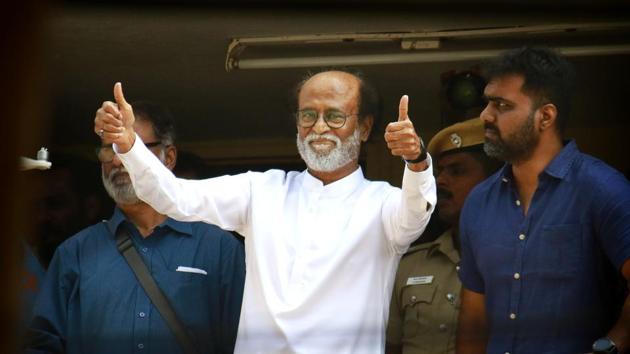 Rajinikanth has finally ended 20 years of drift and dilemma by announcing, on December 31, his decision to join politics and form a party. He hasn't provided details of the party's name or its ideology and electoral strategy, though. Sure, he has made his die-hard fans deliriously happy, but I am not convinced he will be able to capture the political imagination of the masses as a viable alternative in Tamil Nadu politics.
Rajinikanth's decision comes 20 years too late and it comes at a time when Tamil Nadu's politics is at a low and sinking further into a bottomless pit. He is keeping his cards close to his chest, for now, and I worry that he could change his mind after spending a few months on the ground. That may well be his survival strategy. Over the last two decades, Rajinikanth has been dabbling in Tamil Nadu politics with selective appearances with political leaders and parties in power. He has acquired a seat in the power pantheon in Tamil Nadu owing to his matinee idol status and fan following.
It remains to be seen how political parties and the politically aware people of Tamil Nadu react to his announcement. I am sure both will ask difficult questions, testing Rajinikanth's political acumen. This is the divide that Rajinikanth may find difficult to breach, especially with a decade-long people's movement gaining ground in Tamil Nadu and the politically active jallikattu generation becoming more vocal on social media and in political debates.
Rajinikanth is trapped between his fans' wanting to reap the fruits of power and the BJP pushing him to the edge with its own desperate strategies to gain a toehold in Tamil Nadu politics. Rajinikanth says that he does not want to contest the local body elections because of limited time and instead wants to prepare for the assembly elections in 2021. But he does not make any mention of the parliamentary elections in 2019 and has consciously created suspense by saying he will take a decision on this at an appropriate time. This is a strategy he has mastered over the years with his fans and the political parties in Tamil Nadu. Is he not aware that there is talk of the BJP's grand plan to draw and dump the ruling AIADMK into a political quagmire and call for President's Rule in Tamil Nadu before 2018 ends and then simultaneously hold assembly and parliamentary elections together in 2019 to enhance its bargaining power gained through political coercion and the hammer of power?
Rajinikanth is a fellow traveller of the BJP and an advocate of soft Hindutva. He speaks of spiritual politics to camouflage his ideological leanings and asks his fans to become a vanguard against corruption. He conveniently forgets to mention the role of corporate capital in promoting his own movie projects. Rajinikanth is neither an alternative to Dravidian politics nor a non-Dravidian proposition, as some claim. He mistakes the corruption and decay of major Dravidian political parties as the reason for his decision without recognising the cultural, social, political and ideological foundations of Dravidian identity and politics in the state.
This is what Dravidian political parties are struggling to grasp. Before dismissing the threat posed by Rajinikanth, Dravidian parties would do well to study what happened in undivided Andhra Pradesh with actor Chiranjeevi who floated a small party that did well for some time before being ultimately swallowed by the Congress. There is a likelihood of the BJP doing the same in Tamil Nadu. It is a force with its political savvy and electoral ambitions. Tamil Nadu has been the final frontier for the national parties for more than five decades now, and the national parties are unlikely to ignore the opportunity Rajinikanth's entry into politics presents them with.
Ramu Manivannan is professor and head – department of Politics and Public Administration, University of Madras
The views expressed are personal