UNGA is an opportunity for Modi to talk Pakistan with Xi Jinping
Updated on Sep 23, 2015 01:44 AM IST
Like India, China is keen on shaping Pakistan's behaviour. This presents a real opportunity for Narendra Modi, writes Jabin T Jacob.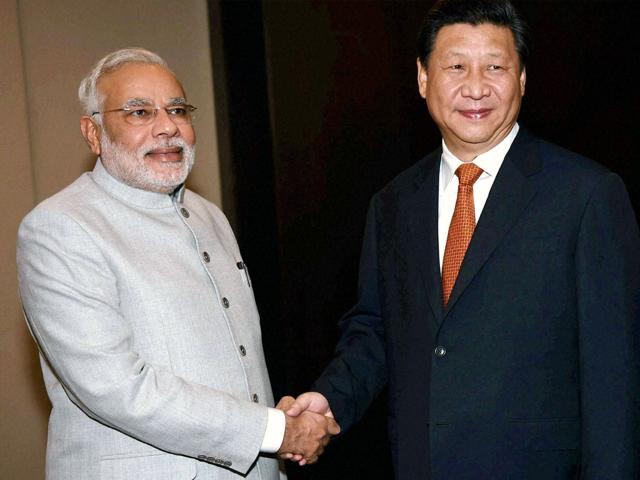 Hindustan Times |
Jabin T Jacob
Prime Minister Narendra Modi and Chinese President Xi Jinping are both headed to the United States and certain to meet on the sidelines of the 70th United Nations General Assembly. The UN, in fact, provides a fitting backdrop for a fresh look at India-China ties after the high of Modi's visit to China in May and the subsequent low of the Chinese block of an Indian bid in New York to sanction Pakistan for releasing the 26/11 mastermind Zaki-ur-Rehman Lakhvi.
This relook must in the main be about Pakistan. Modi and his political affiliates at home appear still not to have decided whether to deal with Pakistan as a religious 'Other' and anathema, or to engage with it as a member of the international community — reports of whose 'failed' status have been greatly exaggerated. Even if Pakistani State institutions necessary for public welfare are weak, those facets that are capable of creating regional discord and instability have always been and continue to remain strong.
China, more than India, seems to have understood this distinction and its potential damage to Chinese national security interests. It has, therefore, through the China-Pakistan Economic Corridor (CPEC), tried to reorder priorities in its 'all-weather' friendship with Pakistan. Can New Delhi afford to be any less ambitious?
Modi must start with a recalibration of Indian cooperation with China on terrorism. Despite the Lakhvi episode, there are signs that the Chinese are coming around to the view that Pakistan is not such a reliable ally on the fight against even China's specific 'terrorist' problem of the East Turkestan Islamic Movement (ETIM). Beijing realises that the Pakistanis are incapable of targeting specific elements such as ETIM without also targeting those terrorists that Pakistan's security establishment has provided support for against India and which they remain reluctant to do.
While China has over the years seen many of its citizens kidnapped and killed in Pakistan, Beijing's tolerance might run thin due to a variety of factors. For one, China's military is now moving beyond mere symbolic displays to taking on increasingly practical tasks such as anti-piracy and evacuation of its citizens from conflict zones. This then increases the pressure on both the military and political establishments to respond to threats to lives and livelihood of Chinese outside China's borders.
In the case of Pakistan, with the launch of the CPEC, those threats just increased manifold. And despite a Pakistani security force ostensibly dedicated to the protection of Chinese personnel working on the CPEC, there is little guarantee that attacks, whether by Baloch nationalists or by the Pakistani Taliban, will not occur.
For another attack by the latter and sundry other mutations will involve messaging about China's treatment of its Muslim minorities. This will lead to complications in China's relations with West Asia and other Muslim countries, which Beijing certainly cannot afford. And when this happens, Beijing will, much like the West, find it easier to assign blame broadly to Islamic militants operating from the Af-Pak region than to specific entities.
This then could be an opportunity for New Delhi to bring Beijing around to working together on pressuring Islamabad to reform its act. Simultaneously, India must also put pressure on China over their bilateral hand-in-hand anti-terror exercises to ensure that the latter understands and agrees with the Indian definition of terrorism as essentially being of a cross-border nature and specifically originating from Pakistan. This then can lead to an upgrade of these exercises from the current photo-ops to a more substantive activity — something the Chinese are likely keen to do also.
Next, Modi must also recalibrate India's approach to the China-Pakistan relationship. For Beijing to give greater weight to Indian concerns and to stop deferring to Rawalpindi or Islamabad, India must also be seen as being reasonable and accommodating.
New Delhi could start by dialling down its noise on the fact that the CPEC passes through Pakistan-Occupied Kashmir. Instead, Modi could, without prejudice to India's position on Kashmir, cultivate important constituencies in both neighbours by declaring his government's openness to connecting the Indian economy with the CPEC.
While neither the Pakistanis nor the Chinese have given any indication that they are interested in such a possibility, China's state-owned enterprises (SOEs) will certainly be looking for quicker returns than Pakistan can provide. Chinese SOEs are a politically powerful interest group within the communist party and are well aware that the Indian market is the real prize in China's much-vaunted 'one belt, one road' initiative. They could be useful allies for the Indian government.
To his credit Modi has already been courting Chinese businesses and entrepreneurs as one way of changing China's calculus of interests and hence also its behaviour. But he might try and scale up his ambitions to use the economic context to also induce changes in Pakistani behaviour. Just as important as Chinese economic involvement might be in the 'Make in India' campaign, so also are they to Indian efforts to bring Pakistan to the straight and narrow of responsible state behaviour.
In fact, one mistake the Indian government might have made post-Ufa was to ignore the possibilities that China offered as a pressure point on Pakistan. As he sits down to talk with Xi in New York, Modi must put any bitterness over past China-Pakistan misdeeds behind him and seek actively to position India as a swing factor in that relationship.
Jabin T Jacob is assistant director, Institute of Chinese Studies, New Delhi. The views expressed are personal.
Personalise your news feed. Follow trending topics