The Centre is targeting students against communalism and corporates
Updated on Feb 24, 2016 02:52 PM IST
In 2013, finance minister Arun Jaitley, who was then in the Opposition, said: "The most pre-eminent out of the freedoms enshrined in ... the Constitution is the right of free speech and expression."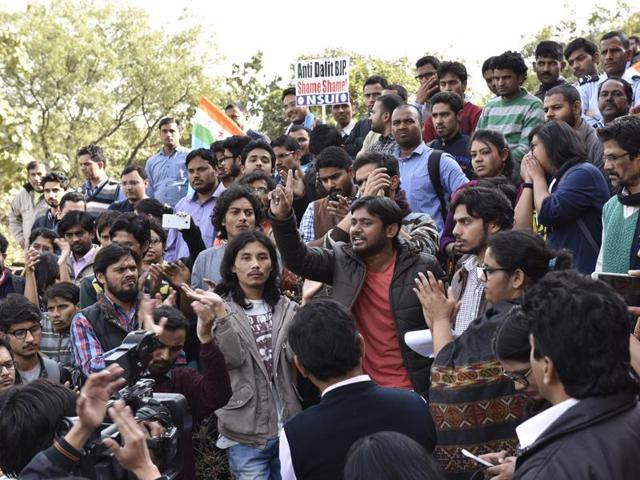 Suvrat Raju and M. V. Ramana
In 2013, finance minister Arun Jaitley, who was then in the Opposition, said: "The most pre-eminent out of the freedoms enshrined in ... the Constitution is the right of free speech and expression."
He was right. The right to express differing and even offensive opinions, as long as they are not accompanied by an incitement to violence, is legal in India. Simply on these grounds, the central government's decision to arrest Kanhaiya Kumar, the president of the Jawaharlal Nehru University Students' Union, for his presence at an event to commemorate Afzal Guru's death anniversary, deserves to be condemned as a misuse of State authority.
Kanhaiya's case is particularly egregious since he was not even an organiser of this event and his own political position, which he explained in a speech the next day, is hardly controversial. But many of the other views articulated at the event, including those of the organisers, are already part of mainstream political discourse. For example, the People's Democratic Party (PDP) "has always maintained that … Afzal Guru's hanging was [a] travesty of justice." In 2009, its leader Mehbooba Mufti stated that she had "no hesitation in saying that the people of Kashmir are for Azadi." Obviously, these views must be debated and discussed; they cannot be silenced by force.
The BJP's alliance with the PDP in Jammu and Kashmir shows the hypocrisy of the government's outrage. In fact, its current attempts to ferret out "anti-national" students are the latest step in a cynical campaign. In January last year, the government prevented a Greenpeace activist Priya Pillai from going abroad because she might indulge in "anti-national" activities.
A few months later, the Gujarat government complained to the Union home ministry that Teesta Setalvad, who has worked tirelessly for the victims of the Gujarat riots, was "carrying out anti-national propaganda" through her organisation.
More recently, Union labour minister Bandaru Dattatreya alleged that the Hyderabad Central University had become "a den of … anti-national politics", initiating a sequence of events that led to the tragic suicide of the Dalit activist Rohit Vemula last month.
What is common to all these allegations, including the one against Kanhaiya, is that they were directed at progressive activists who happened to cross the path of communal or corporate groups that have the government's ear.
It is only appropriate, given this history, to ask about the government's own record in protecting the "national interest."
For example, earlier this month, the government succumbed to pressure from American corporations and ratified an international treaty called the 'Convention on Supplementary Compensation' that will exempt multinational nuclear suppliers from facing civil or criminal charges if they cause a nuclear disaster in India.
Although past governments have been rightly criticised for allowing Union Carbide to escape without punishment for the Bhopal disaster, the current government has committed in advance that it will not hold foreign companies to account in a nuclear accident, which could cause even more damage than Bhopal.
Moreover, since this promise of indemnity contradicts India's domestic nuclear liability law, the government's acquiescence to this US-backed treaty compromises the country's sovereign rights.
While it is easy to pick on university students, the real question is whether the aggressive imposition of communal ideas, and the suppression of political dissent, combined with a weak surrender to corporate interests, is what constitute nationalism.
(Suvrat Raju is with the International Centre for Theoretical Sciences, Bangalore. MV Ramana is with Princeton University. The views expressed are personal)
Personalise your news feed. Follow trending topics