The government must compensate for the demonetisation setback to migrants' mobility
Mukta Naik, Eesha Kunduri, Ashwin Parulkar
Jan 16, 2017 02:51 PM IST
During demonetisation, the renegotiation of informal relationships and scrambling for work has strained the networks of employment that characterise the informal sector
As the focus shifts from demonetisation to remonetisation, one priority of this government, as articulated by the Prime Minister in his New Year's Eve speech is to "help the honest, protect them, and ease their difficulty". How then are honest, hardworking Indians to be rewarded for the sacrifices they have made?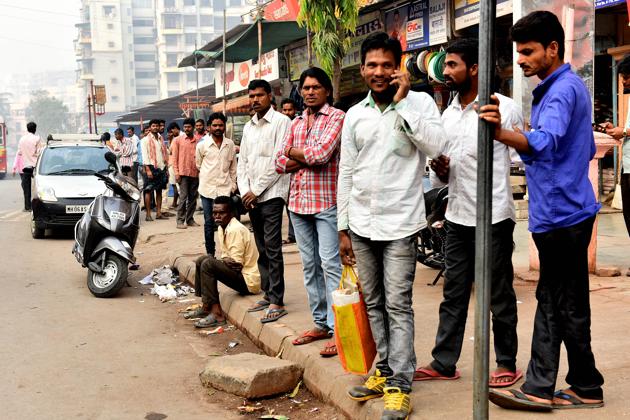 The metaphor of the honest Indian conjures up several images—the farmer, the entrepreneur, the middle class salaried employee—and there were tangible rewards for some in the speech. These included, among others, a 60-day interest waiver for farmers who availed of loans for rabi crops from District Cooperative Central Banks and Primary Societies and RuPay debit cards to about three crore Kisan Credit Card holders, interest subventions for various income categories and an increase in number of houses for the poor under the Pradhan Mantri Awaas Yojana (PMAY) and credit incentives and relaxations for the MSME sector.
As hardworking, honest and in possibly more difficulty are those employed in the urban informal sector, many of them rural migrants who came to the city to diversify household incomes beyond agriculture and in pursuit of a better life. How their expectations of rewards will be met are unclear. The government will need to think about addressing the urgent needs of this important segment of India' workforce that constitute, among others, construction workers, contractual factory workers and the self-employed like street vendors and small-scale retailers.
Read:15 lakh migrant labourers affected by demonetisation in Ludhiana
In the cash-strapped days post demonetisation, many of these workers were pushed into more precarious, casual and insecure work. On field in the first half of December, we encountered rickshaw pullers taking on odd jobs at wedding banquets, and factory workers looking for work in grocery stores. Some workers got paid in old notes and the losses incurred in exchanging them through informal channels only added to their woes. The scrambling for work and the renegotiation of informal relationships have strained the networks of employment that characterise the informal sector. Whether at labour chowks, in the neighbourhood market, or at workplaces, this jaan-pehchan, which hitherto has been a source of support, is fraying under the uncertainty.
Job losses or downgrading also means that remittances take a hit; in East Delhi's Ghazipur, for example, at a banking suvidha kendra, we found that daily remittances had dropped from ₹2.5 lakh to under ₹50,000 in late November. This will impact the rural economy, but more worrying are reports of migrants returning to their villages post demonetisation.
Read: Note ban disrupts Gurgaon's migrant-fuelled village economies
With employment and migration networks in a flux, rural youth with aspirations will rethink their plans to seek urban opportunities. A tentative approach to migration bodes ill for industrialisation and urbanisation, the pillars on which the economic transition is envisioned, with schemes like 'Make in India', AMRUT and 'Smart Cities Mission'.
The PM must deploy his credibility to reassure migrants and reduce their pain through deeper policy engagement at all levels. This needs no new sops; he only needs to put his weight decisively behind a few key measures. First, considering that a large minority of migrants are employed in construction, he must urge States to utilise the unused cess funds from the construction workers welfare boards (CWWB). In 2013, the Ministry of Labour and Employment reported that only 15% of the funds were utilised, despite 22.4 million workers being registered. Increasing registrations and working with states to design and implement projects including rental housing, and health and education facilities must be an absolute priority.
Second, the government must ensure that migrants can access social benefits like the public distribution system (PDS), health and education at destination as well as at source. Much can be achieved by tweaking or just implementing existing schemes; for instance, by linking homeless shelters to the social protection system, as mandated under the Deen Dayal Upadhyay- National Urban Livelihood Mission (DAY-NULM) scheme or by allowing migrants unrestricted access to urban skills training under the Deen Dayal Upadhyaya Grameen Kaushalya Yojana (DDUGKY). The PM has expressed confidence in our ability to move towards digitalisation in pursuit of a cashless or less-cash economy. By making social protection portable, using the same digitalisation, the government can substantially reduce precariousness for migrant workers while focusing existing policy on developing a more skilled, healthy workforce for the future. Digitalisation can resolve issues of documentation, unique identification and inter-governmental expenditure assignment to ensure full portability of benefits across the board.
Read: Demonetisation blues: No work or cash, over 10,000 daily wagers leave Gurgaon
Notwithstanding the glitches that many have already commented on, the demonetisation exercise has demonstrated the enormous reach of the state apparatus and the possibilities offered when it, and the people, are mobilised. It is time this power was used to support those deserving, honest, hardworking and aspirational migrants whose contributions are key to achieving the shared dream of building "a glorious India".
Mukta Naik, Eesha Kunduri and Ashwin Parulkar are researchers at the Centre for Policy Research, New Delhi
The views expressed are personal