Timely and adequate monsoons cannot end the woes of farmers
Improvement in the terms of trade for agricultural products, resulting in higher prices of agricultural commodities, can increase the incentives to extract more water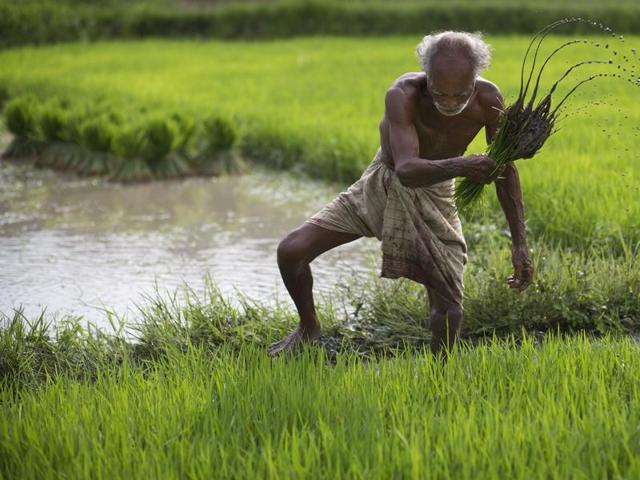 Updated on Sep 07, 2016 09:40 PM IST
Groundwater reserves in India are a vital resource that support livelihood for around 53 million Indians and provide drinking water to around 80% of the rural population . It is vital for the country's food and drinking water security. Yet, recent trends show significant depletion in the aquifers. Many areas of India have experienced more than a 12 metre decline in water-tables since 1980. Satellite based assessments indicate that Punjab, Haryana, and parts of Gujarat are witnessing rapidly falling water-tables.
Read: What, when, where? The essential monsoon guide
The government has declared 15% of the administrative blocks as over-extracted. Already, areas in arid India are supplied with drinking water via trains, increasing groundwater depletion in other parts.
Research shows that lack of access to groundwater for irrigation increases poverty and conflict over water in rural settings.
The lack of direct pricing for water, riparian rights that allow anyone owning land to extract limitless sub-surface water, and power subsidies have often been deemed as the main factors that are fueling this rapid decline of the water table.
However, another important channel that can influence the depletion or over-extraction of groundwater -- the institutional policy of promoting agriculture export zones (AEZs) --- has received scant attention.
Improvement in the terms of trade for agricultural products, resulting in higher prices of agricultural commodities, can increase the incentives to extract more water, which is an essential intermediate input used in the production of export crops.
Read: It's the season of flooding, but monsoon is below normal
An International Growth Center research project shows that between 2001 and 2006, the water-table fell by 0.5 metres due to these AEZs, but in the overexploited areas such as Punjab and Haryana, the water-table fell by more than 1.6 metres, which is economically a very large decline.
Read: In water-stressed Andhra, farmers sign pact to share ground water
There are two other important takeaway findings of this study. First, the welfare of small farmers in these overexploited regions is falling. The mean per capita expenditure has fallen around 61% between 1999 and 2009 for small farmers in the overexploited regions after the setting up of AEZs. However, there is no change in the welfare of marginal or large farmers. The study finds that there is an increase in well failure for small farmers in over-exploited regions but large farmers are able to deepen their wells. Hence, the accrued benefits of the AEZs are being invested in deepening private wells by large farmers.
Read: 'Destruction of forests is weakening later stages of monsoon'
Second, the social cost of water lost in the over-exploited areas due to AEZs is significant. In the absence of direct pricing of groundwater, the study calculates how much it would cost to desalinise the amount of water depleted in the over-exploited areas. Under different scenarios of capacity, the monetised value of depleted groundwater net of imported water in agricultural commodities could be at least as high as $0.3 billion dollars in 1991 dollar terms.
This is a conservative estimate since it does not include the cost of energy required to pump saline water. This study finds that using trade promotion as a lever to increase agricultural productivity can be counter-productive in the long run if commensurate institutional reforms that ascribe property rights to groundwater or a direct price to it are not concurrently designed.
Mere supply side efforts to harvest rainwater are not adequate to address this issue. Even in good rainfall years, more groundwater is being extracted than is being replenished in over-exploited areas. Timely and adequate monsoons alone cannot end the woes of the Indian farmers.
Close Story
Personalise your news feed. Follow trending topics