Why the West is responsible for China's OBOR project
May 18, 2017 01:41 PM IST
India will have to step up its diplomatic and economic engagement to counter China's economic and geopolitical outreach across the world
Since the dissolution of the Soviet Union in 1991, and initiation of Chinese economic reforms in 1979, two approaches have characterised western, particularly the US', strategy towards Russia and China.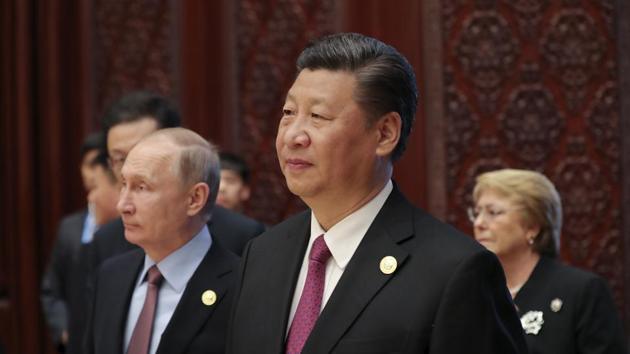 Some attempts were made in the early 1990s to build a closer relationship with Russia, particularly when it was under Boris Yeltsin. In 1997, Russia joined the G7. Earlier, in 1994, it had joined the Nato's Partnership for Peace programme. Russia, however, was seen as a vanquished power in the context of the Cold War. Beginning in 1999, Nato was expanded to the east to include several former Warsaw pact and Soviet space countries, despite Russia's objections.
Stay tuned with breaking news on HT Channel on Facebook.
Join Now
This Nato-enabled expansion of the European Union further contributed to Russia being pushed back from its earlier areas of influence. The differences over Russia's perception of its own role and areas of influence, and the European/US acceptance, led inter alia to crises in Georgia (over Ossetia and Abkhazia in 2008), and more recently in Ukraine/Crimea. Russia's membership of G8 was suspended in 2014.
In contrast to the attempt to push back Russia, the western approach has been to facilitate and accommodate the rise of China. In 1971, Richard Nixon and Henry Kissinger effected an opening to China as a check on the Soviet Union in the global balance of power. Since 1979, western corporate interests aggressively pursued economic interests and profits. The strategy projected was to "integrate China in the international mainstream" and within the framework, rules and norms of the "liberal international economic order" pursued, without any countervailing influence, since 1991.
China's inevitable challenges to these norms have not generated any effective western response. The US has not done anything meaningful in response to Chinese construction activities in South China Sea. It has refused to take a position on ownership, but merely asserted its right of "freedom of navigation" through international waters, and occasionally carried out carefully orchestrated operations to this end.
Similarly, there was no effective response when China announced in 2008, soon after conclusion of the US-India civil nuclear cooperation agreement, that it would supply two additional nuclear power plants to Pakistan without seeking any waiver from the Nuclear Suppliers Group.
The US has also encouraged China to get more actively involved in Afghanistan economically, and in the reconciliation process with the Taliban. Many hope to see in the 'China-Pakistan economic corridor' some potential of contributing to economic stabilisation in Pakistan, to the detriment of extremism.
During his presidential campaign, Donald Trump claimed he would take strong and immediate action against Chinese trade imbalances and currency practices. Instead, following his meeting with Chinese President Xi Jinping in April, a 100-day plan was announced to resolve trade-related frictions. The joint press release saw China repeat some of its earlier commitments on imports of beef, biotechnology products, and access to credit rating agencies and credit card companies.
In return, the US agreed to consider China for LNG export authorisations (US has been selective in such authorisations for non-free-trade agreement countries), welcome Chinese investment, treat Chinese banks on par with other foreign banks and recognise "the importance of China's One Belt and One Road Initiative" and to send delegates to attend the Belt and Road Forum.
Earlier the US had stayed away from the China-led Asian Infrastructure Investment Bank. The two sides also agreed to begin discussing a one year plan "to further solidify actions in promoting US-China economic engagement and cooperation". China has also been repeatedly described by Trump as important in addressing the North Korean nuclear and missile challenge.
Thus, India faces a dilemma on many fronts. One of the anchors of India's foreign policy, Russia, has been pushed into a closer engagement with China because of its difficult relations with the West. President Vladimir Putin was a leading presence at the Belt and Road Forum. Russia has also enhanced its engagement with Pakistan through supply of helicopters, military exercises, and outreach to the Taliban.
European countries, faced with stagnant economies, will look for potential economic opportunity. In fact, over the past decade Germany, France and Britain had appeared to be in competition for Chinese trade, investment and finance. Countries in south and southeast Asia and Africa are also short of capital, and will find it difficult to resist surplus Chinese capital, even though it has proven to carry heavy baggage in terms of debt and lack of transparency.
India will no doubt have to further step up its diplomatic and economic engagement, particularly through more effective implementation, while avoiding unnecessary competition in areas where it does not have strengths.
In the US, India must deepen further its outreach to the US Congress, think tanks, business and leverage the Indian-origin diaspora.
Arun K Singh is a former ambassador to the United States
The views expressed are personal