A pregnant pause: Author Meghna Pant on why we rarely see baby bumps on camera
Updated on May 11, 2017 08:04 PM IST
The ugly truth is that society encourages women to hide their bumps. Most people want a pregnant woman to disappear into confinement, like during the Victorian times.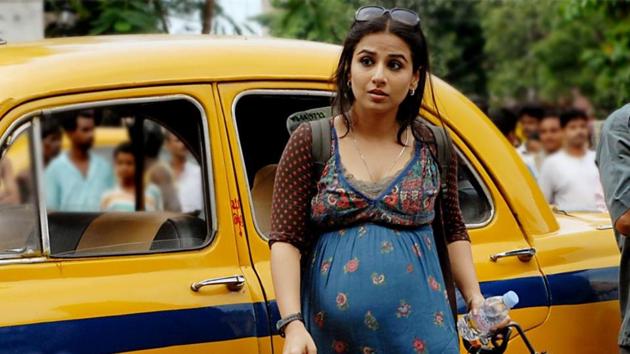 I'm waiting for the shoot of my online show [She's the Boss] to begin, when my guest's secretary walks into the conference room and asks if I'd like coffee. "No, thanks," I reply. "I'm avoiding caffeine. Pregnant."
I move my purse and point to my baby bump. The woman freezes. She stares uncomfortably at my stomach. She looks at the camera set-up and adds, "You're brave." I startle. Not because her tone insinuates crazy, not brave, but because she's confirming my own worst fears. Putting myself in front of the camera while I'm at my fattest is not easy. I'm tackling body image issues that have not existed before. I'm opening myself up to judgment and criticism. I'm internalising what can only be called pregnancy shaming.
Still, why am I feeling guilty for what should be a glorious experience? That's when it strikes me.
We never see visibly pregnant women on screen, especially in our country. Yes, Kareena Kapoor Khan set a fine example by rocking her bump in photos, fashion shows, and on Koffee With Karan, but did she appear with an obvious bump in any film while pregnant? Yes, Lisa Haydon recently slayed a magazine cover with her bump, but, it's so beautifully contrived that it lacks realism. Women have been shown pregnant if the role requires it, but where are the actually pregnant actors essaying these roles? Even the 'brave' actors, anchors and models, who continue being on camera, disguise their pregnancies behind oversized tops and clever camera angels, till most of what we see of them are talking heads.
The ugly truth is that society encourages women to hide their bumps. Most people want a pregnant woman to disappear into confinement, like during the Victorian times.
What is it about pregnancy that makes people squeamish? Is it because they think that pregnancy is a woman's problem, like periods, menopause, marital rape and domestic violence? Is it because of the dated belief that a woman shouldn't work when with child? Or is it because — and try not to laugh — pregnancy clearly indicates that a woman has had sex, and society's moral shame rests in her lack of virginity?
No matter how empowered a woman is, it is ultimately her private submission that society seeks, isn't it? This leads to pregnancy shaming. It makes women feel guilty, and leads them to live in fear of their own body. It convinces them to go into hiding. Remember Aishwarya Rai?
Worse, society lauds women who flaunt a flat belly three weeks after delivering a 4kg baby. It lets women in the entertainment industry reappear only once they're slim again. Faced with such prejudice, it's no wonder that pregnancy shaming is as much a reality as body shaming.
So much is wrong here. In this age of rising gender equality, a woman's self-worth should not be tied to the size of her body. Women should flaunt or hide their bump as per their comfort and not somebody else's discomfort. People should become accustomed to seeing women with swollen bellies and waddling walks on their movie screens, TVs and laptops.
Brands looking to break stereotypes by showcasing divorced women, dark-skinned women, women in their forties, and transgender mothers, should cast pregnant models too. Arnab Goswami can break through the news clutter by having a visibly pregnant woman anchor a prime time show on Republic TV. Anurag Kashyap can break the mould by casting his next leading lady as an actually pregnant one. Ultimately, what must change are not our bodies or our choices, but the rules that aim to suppress them.
Meghna Pant is an award-winning author and former journalist who promotes gender equality through talks, events and online chat shows. She tweets as @MeghnaPant
Personalise your news feed. Follow trending topics