Housefull: Tent cinema is a dying tradition but is still one of the ways of going to the movies in the hinterland
Sep 29, 2017 02:26 PM IST
Due to individualised modes of watching films, travelling cinemas have all but disappeared. A unique photography exhibition captures the dying tradition
If Roti, Kapda Aur Makan are the first three must-haves of our lives, then entertainment is certainly the fourth one. India has a rich tradition of different forms of arts-related pursuits, and films probably lead the popularity chart.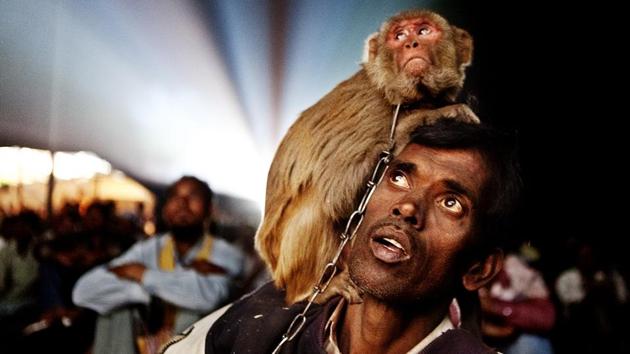 If you want to understand what movies mean to a vast majority of Indians, you'll have to ditch the multiplexes -- and get under a tent. Yes, a tent! Or plan a visit to PHOTOINK, a photography gallery in New Delhi, to catch Amit Madheshiya's 'The Cinema Travellers', homage to a dying tradition of tent/tambu cinemas.
For seven decades now, such cinema owners have been travelling with tents, films, hand-cranked projectors, and transporting the magic of movies to audiences across the hinterland. But due to new technologies and internet connectivity, these 'pop-up' cinemas are losing patrons who now prefer to watch films on DVDs and mobile phones.
Illuminated by the projected light of the screen, Madheshiya focuses our attention on faces in the audience and their expressions of awe, delight, bewilderment, and melancholy. His portraits are an intimate observation of cinema's impact on its viewers.
'The Cinema Travellers' project began in 2008 and grew into the award-winning documentary film by the same name, which Madheshiya co-directed with Shirley Abraham.
Recounting the early days, Madheshiya told HT: "In 2006, single-screen theatres were shutting down, giving way to multiplexes. This saddened us. But we also wanted to know how people are watching films in villages. Is their big screen experience affected by this change in cities [multiplex boom]?"
To explore this further, Abraham and Madheshiya set out on a cross-country journey. It was an "instructive experience" about the modes of exhibition and the bond people share with cinemas. They found several versions of travelling cinemas: An elderly man showing a film on a hand-cranked projector under a neem tree in West Bengal; entrepreneurs carrying new portable digital projectors in Uttar Pradesh, and college students taking Charlie Chaplin and Satyajit Ray movies to farmers.
"Maharashtra had the most fascinating sight of all. About 10 bulbous tents were hitched to giant trucks. In the belly of those trucks, old cinema projectors whirred away. Thousands sat crouched by the beam, drinking in the magic. We stood there gasping as if transported back in time," Madheshiya said. "Travelling cinemas are believed to have become a part of the mythology of cinema and we took in this sight with a mix of disbelief and wonder." Abraham and Madheshiya then decided to ground their project in Maharashtra.
Tent cinema came first to Maharashtra 70 years ago because there was an audience for it. People came to fairs for trade and business, social interaction and matchmaking. Cinema gradually integrated into the local tradition, and later became its mainstay.
"Because these fairs only happen once a year, there is a lot of anticipation for the cinema. Along with cinemas, there are other forms of entertainment: Circus, tamasha, magicians and lavni," explained Madheshiya. The audience is mostly men; women come in the afternoon and some evening shows till about 9 pm. Unlike in other parts of India, travelling cinemas are still surviving in Maharashtra, thanks to a legal distribution chain and their integration with religious fairs.
But taking photos inside a dark tent isn't an easy job. Madheshiya sat facing the audiences. As the film began, he inched towards the person who was most expressive, taking almost 20 to 30 minutes to cover 8 to 10 feet to reach his subject. The advantage of this slow movement was that by the time his lens zoomed on the subject, the person would be absorbed in the film. Madheshiya did not use any external light or a flash because he did not want to intrude into this "intimate moment" -- instead, he photographed them as their faces glowed in the light of the screen.
Madheshiya used a longer exposure to compensate for the low light and hoped that his subjects wouldn't move. "I would consider myself fortunate if I made a portrait through the runtime of a film," he recounted.
Speaking to HT about his small-town background (he was born in Mau, UP) and its impact on his choice of projects, the 35-year-old photographer said: "Having grown up in a small town guides me to be more attentive towards the nuances of culture…. They lead me to a deeper understanding of behaviour and motivations. This is essential in creating art."
Madheshiya is a fellow of the Sundance Institute, MacArthur Foundation, Goethe Institut, India Foundation for the Arts, Arts Council England, National Foundation of India and the University of Heidelberg. He is also a fellow of Tasveer Ghar, an online archive of the popular visual culture of South Asia.
Speaking of Madheshiya's work, Arundhati Ghosh, executive director, India Foundation for the Arts, Bangalore, told HT: "Recently at the Museum of Bucharest City, I read the curator Dr Adrian Majuru's note on time. It said: 'Return in order to look forward'. I thought of The Cinema Travellers' and its way of looking back at the fantasy of cinema, at those bewitched by it, and the sheer junoon of those who made it their life's passion to bring it alive for millions".
Ghosh added Madheshiya's work often enables us to make critical enquiries into where we are coming from - to make sense of where we might be going to, with a short pause at the present. "While at one end it documents a form of cinema experience that is slowly being erased; at another, it seizes those moments of our eternal fascination with the moving image. It connects this 'almost past' of the cinema to the many possible futures of the moving image and the rapture with which it will continue to ensnare us," she said in an email interview.
Project director and co-founder of Tasveer Ghar Yousuf Saeed said Madheshiya, unlike most people, has an eye for the "unique visuality" found in public spaces. "He is among many researchers who have been documenting such visual ephemera in South Asia's public culture, something earlier ignored by art historians and activists," Saeed added.