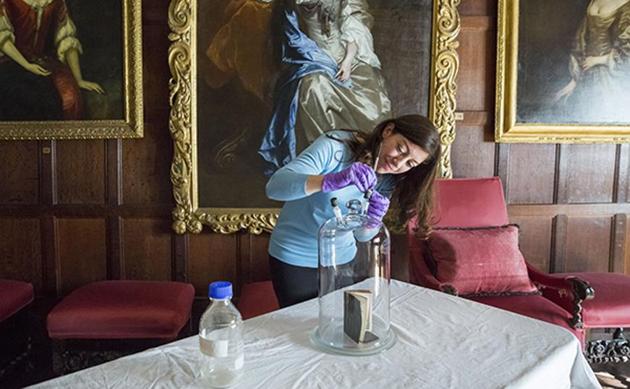 Saving historical smells: Documenting the odours of a stately British home
The many smells of Knole House, a stately home in southeast England, are being documented in a bid to preserve historical smells for posterity.
UPDATED ON APR 08, 2017 09:01 AM IST
Inspired by the aroma of ancient paper, scientists are documenting the odours of a stately British home in a bid to preserve historical smells for posterity.
The team has been working at Knole House in southeast England, capturing the smell of books, gloves, vinyl records and even the floor waxes.
Apart from testing the objects to try to replicate their smell in the laboratory, the scientists have relied on written records about the house, which was the childhood home of novelist Vita Sackville-West.
"Smells help us connect to history in a more human way," said Cecilia Bembibre, a doctoral student at University College London who has been working on the project alongside analytical chemist Matija Strlic.
The project aims to identify smells that have "cultural value", as well as "ways of documenting them and hopefully preserving them", Bembibre told AFP.
Strlic said studying in the historic home was crucial because objects were in their "natural habitat".
"In a museum or gallery they have been taken out of context and are presented to us exclusively visually."
Strlic and Bembibre published an article in the academic journal Heritage Science on Friday that included a poll of visitors to a Birmingham gallery presented with the smell of paper.
Respondents were not told what the smell was, but the main words used to describe it were "chocolate", "wood" and "coffee". There were also more unusual ones, including "socks", "incense" and "farm".
They also polled visitors to the 18th-century library of St Paul's Cathedral in London, who used words like "woody", "musty" and "sweet" for the smell of the books.
Strlic said he was inspired a decade ago when he found out that conservationists often sniff pages to determine if books in libraries are degrading.
After years of research, he said he could now accurately tell "where the paper was made, when it was made and the level of degradation" simply by its smell.
Strlic said the research could be used for curators to be able to detect signs of degradation in libraries.
He said it could also lead to the creation of archives of historic smells or the addition of an olfactory experience to museum tours.
Distinctive smells in danger of disappearing could be preserved, he said, even those of London's crowded and often pungent underground transport network.
"Why not the London Underground? It might not be a smell that is particularly nice but it is one that is very familiar to us," he said.
Follow @htlifeandstyle for more
Close