At 100, India's first voter Shyam Negi keeps date with V-day
Updated on Nov 09, 2017 08:37 PM IST
After voting for 29th time, Shyam Saran Negi says all should vote as it's the citizen's biggest right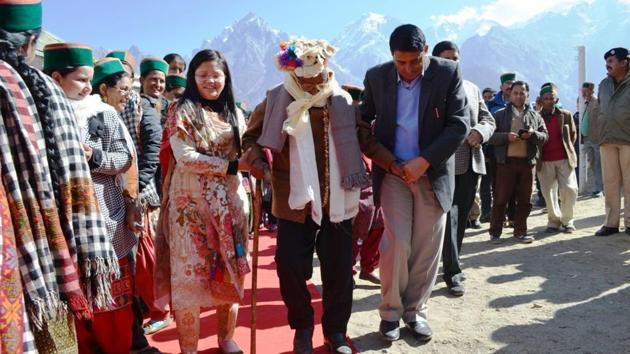 India's first voter Shyam Saran Negi, 100, gazed at his inked index finger before holding it up for the world to see. He beamed with pride as he stepped out of the Kalpa polling station in Himachal Pradesh's tribal district of Kinnaur on Thursday morning after exercising his franchise for the 29th time since 1951.
He has never missed voting.
Poll officials gave Negi a red carpet welcome with a traditional band playing in the background as he arrived at the polling booth, walking stick in hand. The booth was set up in the school where he taught for 23 years.
"Everyone should vote. This is the biggest right we have been given by our Constitution," he said.
Negi has voted 16 times in the Lok Sabha elections and 13 times in assembly polls.
He turned 100 on July 1.
Kinnaur deputy commissioner Naresh Kumar Lath felicitated him with a traditional green Kinnauri cap decorated with flowers and a shawl.
Kalpa sub-divisional magistrate (SDM) Major Avaninder Kumar (retd) said Negi remembers the day he first voted. "He is an inspiration. Even at this age, Negi ji is enthusiastic about voting," Kumar said.
Negi first voted at Chini (now called Kalpa). In 1951, elections in remote areas were held earlier than in the rest of the country due to topographical challenges. Kinnaur, which is 235 km northeast of state capital Shimla, borders Tibet in the east.
Negi was the brand ambassador of the Election Commission of India for the 2014 general election.
Personalise your news feed. Follow trending topics