Bike rallies, rock music show planned to woo voters in Ghaziabad
Jan 31, 2017 11:46 PM IST
District election officer said the bike rallies and the tableaux will start from the four major points — Modi Nagar, Loni, Sahibabad and Ghaziabad — and culminate at Raj Nagar
To encourage voters to exercise their right to franchise, the Ghaziabad district administration has decided to hold a rock music festival in Raj Nagar on February 5. During the event, bike rallies, road shows with tableaux will be held.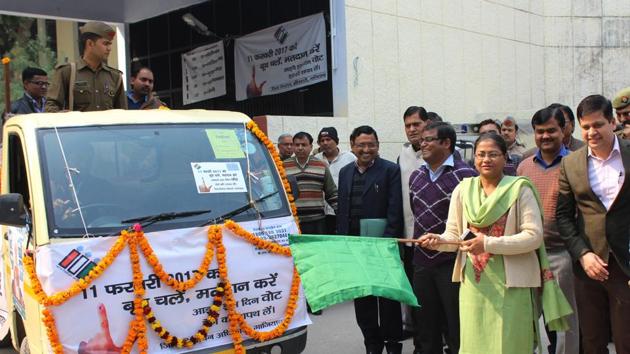 District election officer (DEO) Nidhi Kesarwani said the bike rallies and the tableaux procession will start on February 5 from the four major points — Modi Nagar, Loni, Sahibabad and Ghaziabad — and will culminate at Raj Nagar where a rock music festival will be held.
"The event will be held to educate masses and encourage voters to come out and vote in large numbers on polling day — February 11. For the purpose, we have also got in touch with NGOs, sportspersons and schools to ensure participation of students in large numbers," the DEO said.
According to officials, the event is expected to see a mammoth gathering — of nearly 10,000.
In yet another move to enlighten voters about the VVPAT (voter-verified paper audit trail) machine, which will be exclusively used in Ghaziabad assembly constituency, the administration officials on Tuesday flagged off a van carrying a VVPAT machine.
"The van will roam around various parts of Ghaziabad and will also give demonstrations to voters about the manner in which the VVPAT machine is to be used. This assembly seat is the only one in the district where the use of VVPAT will be ensured on February 11," Kesarwani said.
The van will move around in Ghaziabad assembly segment till February 5. In all, Ghaziabad district has six assembly segments — Loni, Murad Nagar, Sahibabad, Ghaziabad, Modi Nagar and a part of nearby Dhaulana.
The VVPAT system is a method of providing feedback to voters who select their choice of candidate on the electronic voting machine. The VVPAT machine has a printer-like system attached, which shows the voters about the candidate details he has opted to vote for.
"After a voter presses the button on the EVM, the VVPAT system will display, on a printed sheet, the candidate's name and symbol that was chosen from the selected button. This will doubly ensure that the voter is certain about the candidate he selected. The printed paper roll will then move down into the system after seven seconds," an official with VVPAT system, said.