15% MP budget will be diverted to farmers: CM
Oct 27, 2015 05:27 PM IST
At least 15% of the 2015-16 Madhya Pradesh budget outlay for various departments will be diverted to providing relief to the farmers.
At least 15% of the 2015-16 budget outlay for various departments will be diverted to providing relief to the farmers who have suffered financial losses due to nature's vagaries, Madhya Pradesh chief minister Shivraj Singh Chouhan said while addressing a farmers' rally on Monday.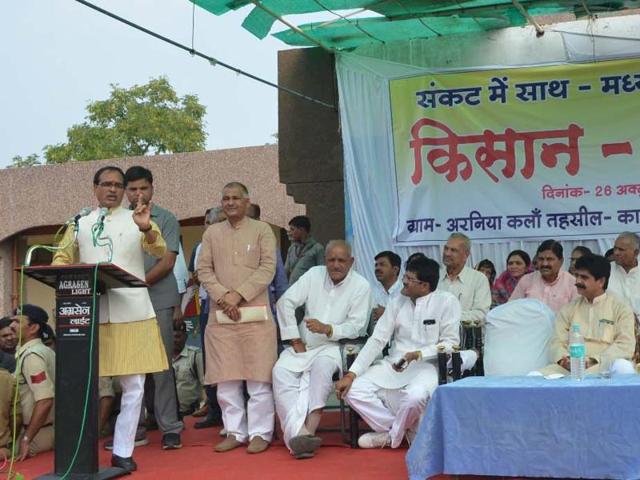 The decision has been taken in view of the increasing incidents of farmers committing suicide under growing debt and failing crops situation. At least 22 farmers have reportedly committed suicide during the past one-and-a-half months in the state.
Chouhan said bridges and roads could wait for a year but there was need to ameliorate the farmers' condition and hence the decision. "I am also a farmer and I won't allow farmers to commit suicide", he said, while addressing a rally at village Arniyakala in Shajapur district under the state government's programme named "Krishi Chaupal".
The chief minister said that collection of dues by various departments from the farmers, who had suffered massive losses, had already been stopped. He said that the medium-term-loans would be converted into long-term ones and the interest amount thereon would be paid by the government for a year.
Chouhan said the farmers would be allowed to install transformers by making a down payment of 10% cost and added that soon a decision would be taken to give temporary power connections to them for at least two months.
The chief minister referred to the losses suffered by the farmers on soyabean crop and said that the government would disburse `3,000 crore as compensation to the farmers, an equal amount under the crop insurance scheme and Rs 1,000 crore worth of interest on the farmers' loan as part of the relief package.
The chief minister also approved a `200-crore relief to the farmers of Shajapur, which is part of the soyabean belt, as had been demanded by the district administration.
He rubbished the Congress party's claims on the crop loss survey and said the same were being carried out on a war-footing.