Drilling work for proposed nuclear power plant Chutka stopped after villagers protest
Jul 16, 2017 05:09 PM IST
Villagers in tribal dominated Mandla district's Chutka staged a protest on Saturday, refusing to allow drilling for soil samples for the proposed nuclear power plant in the area
Villagers in tribal dominated Mandla district's Chutka staged a protest on Saturday, refusing to allow drilling for soil samples for the proposed nuclear power plant in the area. They said their demands and concerns have not been addressed by the authorities. Mandla is 382 kms from Bhopal.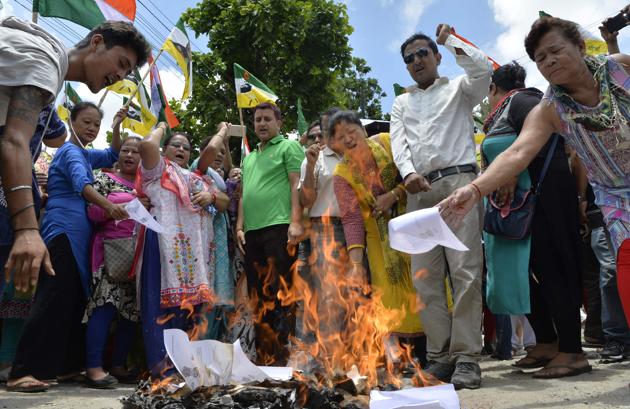 Union environment ministry's forest advisory committee (FAC) recommended forest clearance for Chutka nuclear project in Mandla after discussing the diversion of 119.46 hectares of forest land in Mandla in its meeting on May 16 this year. In 2015 the state cabinet had approved allotment of 41 acres of land for the Chutka project.
The 1,400 megawatt project being set up by Nuclear Power Corporation of India in collaboration with the Madhya Pradesh Power Generation Company will come up at village Chutka in Narayan Ganj tehsil of Mandla district. Over 400 families will be displaced by the project.
People of the four villages in Mandla district, predominantly tribals, have been protesting against the project since it was cleared by Centre in 2009. Most of them were displaced by the Bargi Dam in 1984. Now people in three villages are demanding a good compensation package.
Chutka Parmanu Sangarsh Samiti (CPSS) secretary Navrattan Dubey told HT on phone that tribals from gram sabhas of three of the four affected villages -Chutka, Tatighat, and Manegoan- gave their conditional approval to the project while the gram sabha of Kunda village didn't give any approval and continues to oppose the project.
"We gave approval provided our demands are conceded. But the government has not accepted our demands. Our demands include Rs 60 lakh compensation per acre of land, job to a family member, five acre land to landless and Rs 25 lakh per family for construction of a house", he said.
He said on Saturday they stopped the drilling work that was going on for collecting soil samples that had to be sent to the Mumbai lab. "We are demanding that until our demands are conceded, we will not allow any work in the area", he said
Dubey said government had deposited Rs 3.83 lakh per acre as compensation in the bank accounts of the villagers, even as nearly 60 % of the affected villagers were not ready to take the money. "The government has also provided Rs 6 lakh compensation per family", he said, adding the government wants to rehabilitate them at Potla, 17 to 18 kms from Chutka.
Environmental expert Soumya Dutta who has visited Chutka many times, told HT that there was no rationale for the proposed nuclear power plant as MP was already a power surplus state.
"Given the scenario of power generation and power demand at present, there is no need for nuclear power plant in MP. Besides, if a village Gram Sabha (of Kunda) has not approved the project, the government has to constitutionally accept it. But the concerns of the villagers are not being addressed. Over the years, people in rest of the three villages, have moved from opposing the project to demanding a good compensation package", he said.