MP: Mysterious flame on Narmada bank leaves villagers surprised
Published on Dec 22, 2015 01:09 PM IST
Mysterious inflammable gas is coming out of the earth at one of the banks of Narmada river in Mandla district. Sources said a flame was first noticed at Sangam Ghat in Maharajpur area of Mandla district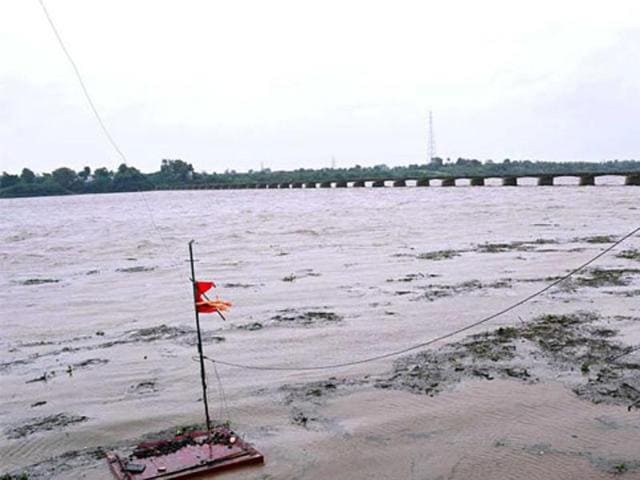 Mysterious inflammable gas is coming out of the earth at one of the banks of Narmada river in Mandla district.
Sources said a flame was first noticed at Sangam Ghat in Maharajpur area of Mandla district on Sunday evening. Later, local villagers flocked to the river bank and linked the phenomenon to a "jyoti (divine flame) of Narmada Goddess".
It seems someone after noticing the gas coming out of a crack in the steps of Sangam Ghat covered the place with a pot, made a hole in the pot and lit the gas. Later, people started coming to the place from the surrounding areas to catch a glimpse of the flame along the Narmada river bank.
Looking into the matter, the district administration has deployed policemen at the spot.
Maharajpur police station town inspector (TI) Shafiq Khan told HT over phone that it was not the first time that such a phenomenon of inflammable gas leak had manifested on the banks of Narmada river.
"Two years ago, leakage of an inflammable gas from the earth had been reported from a nearby place on the opposite bank of the Narmada river," he said.
After the phenomenon was reported on Sunday evening, senior officials of the district administration arrived at the spot and cleared the area.
This is not the first time that gases, possibly trapped deep within the ground, have leaked to the surface.
Last month, gas with strong pungent smell started emanating from cracks in the floor of a house in Jabalpur district's Bijapuri village.
In September last year, unknown gas started leaking from a field in Khandwa district.
In October this year, underground geological blasts created panic among villagers in Betul district. Even water from hand pumps in the area stared coming out automatically with huge pressure.
In January, villagers in Damoh reported that ground water and the air coming from borewells was burning with blue flame.
Prof Arun Shandilya, former head of the department of Applied Geology at Dr Hari Singh Gour University in Sagar, who has been studying the phenomena of gases emanating from underground catching fire in MP for over a decade, told HT that Mandla area had 55 to 60 million old basalt rocks.
"Generally this area has not reported inflammable gases emanating from below the surface like some other areas have. I suspect it could be because of a small methane pocket trapped below the ground," he said, adding, "This phenomenon needs to be studied in Mandla, as to what exactly was leading to leaking of gases there."
Personalise your news feed. Follow trending topics