Smuggling of rare turtle in MP's Chambal
Sep 08, 2017 03:57 PM IST
The special task force (STF) of Madhya Pradesh's forest department (wildlife wing) has arrested a person from Morena in Gwalior-Chambal region for poaching of critically endangered red-crowned roofed turtle, found in Chambal river
The special task force (STF) of Madhya Pradesh's forest department (wildlife wing) has arrested a person from Morena in Gwalior-Chambal region for poaching of critically endangered red-crowned roofed turtle, found in Chambal river.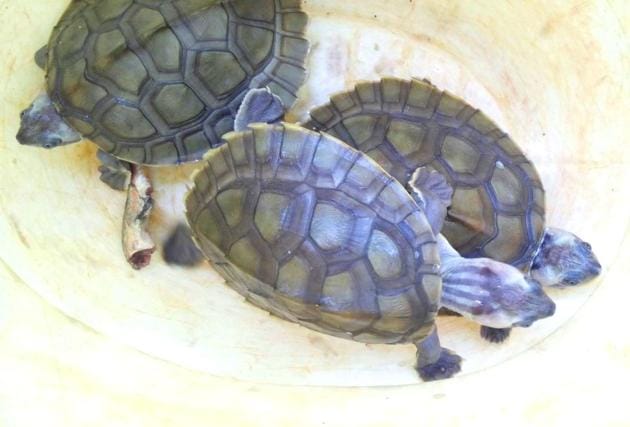 Chambal river is known as one of the last viable habitats for this rare species, according to experts.
The operation was conducted under the leadership of RP Singh, additional principal chief conservator for forests (wildlife) and state STF (wildlife crime) in charge Ritesh Sirothia.
Sirothia told HT that three red-crowned roofed turtles, also called 'Lal Tilakdhari', had been recovered from the possession of the poacher Kailash, who hails from Morena and works there as a fish contractor.
Sirothia said Kailash had been working as a fish contractor, supplying fish to the forest department's Gharial breeding eco-centre at Deori in Morena district for the last eight years.
"Deori eco centre is the only gharial breeding centre in the state which also houses crocodiles and turtles. After a few years, they are released into the Chambal river. This poacher Kailash somehow managed to smuggle out three crowned red roofed turtles from this centre. But we caught him and investigation is on who else is involved in this poaching network", he said,.
He said Kamlesh was being questioned to find out where he was taking these turtles and other possible links- middlemen, carriers and traders- involved in illegal turtle trade.
Protected under schedule I of Indian Wildlife Act 1972, which accords it the highest protection, this rare freshwater turtle is in much demand as the males of this species exhibit bright red, yellow and blue colouring during breeding season.
This turtle species, scientifically called Batagur kachuga, is staring at extinction due to various factors like poaching, hunting for its meat and shell, accidental drowning in fishing nets, water pollution, water development projects, habitat loss, egg predation by wild animals and human interference.
India has 34 species of fresh water turtles and tortoises, out of which 10 species of turtles and one species of tortoise have been reported from MP so far.
STF is suspecting a bigger turtle poacher network at play in Chambal area. In March this year 23 red crowned roofed turtles were recovered from a wildlife smuggler Ajay Singh, who was arrested in a joint operation of UP STF and forest department. The turtles, caught from Chambal and Yamuna, were being taken to Chennai. In July this year, MP police also recovered 35 baby tortoises from a busy market in Indore.
Chambal river is known as one of the last viable habitats for this rare species, according to experts.