Watch: This teenage 'engineer' from MP needs no college degree to help the poor
Meet Ayush Semele, a resident of Prithvipur in Bundelkhand who makes a great argument in favour of those who believe that formal education isn't the only road to success.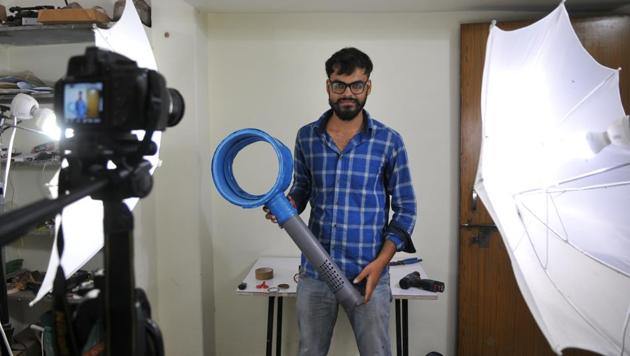 Updated on Jul 20, 2017 04:45 PM IST
He does not have an engineering degree, and isn't even qualified for admission into a regular technical college. And yet, at the age of 19, he is already an "engineer for the poor".
Meet Ayush Semele, a resident of Prithvipur in Bundelkhand who makes a great argument in favour of those who believe that formal education isn't the only road to success. He indigenously develops all electronic items for daily use – from induction cookers to refrigerators and bladeless fans – and even tutors people on manufacturing them at low prices.
Today, the teenager has a huge fan following on the social media, especially YouTube. The money earned through his social media presence is put into developing more electronic equipment, which is then given to the needy for free.
However, Ayush's life was not always a success story. Though he had a passion for making electronic gadgets even as a child, poor grades in school invited discouragement from his folks. In 2012, when he was just a lad of fourteen, constant criticism spurred him to slash his wrists in desperation. A year later, the boy ran away from home for nearly a week to escape the taunts directed at him.
Interestingly, it was during this period that Ayush came to meet poverty-ridden people who couldn't afford even the most basic of electronic comforts. Some of the children he chanced upon hadn't even seen a toy.
"I always wanted to become a scientist, but our education system only teaches us theoretical subjects," says Ayush. "Whenever I sought practical lessons, I was thrown out of my class. I was criticised for asking questions. No one even tried to understand me."
However, after the initial setbacks, the home-bred inventor decided to pursue his dreams. He started off by making small toys and electronic items with discarded items, and they were both durable and cheap. At last, appreciation began trickling in.
Ayush's parents still had academic aspirations for him. However, after a year of being coached at a reputed institute in Bhopal, he dropped out. The boy just couldn't concentrate on theory.
That was when Ayush's elder brother, who is pursuing an engineering course in Bhopal, stepped in. Sourabh motivated him to come up with innovative electrical and electronic products, and upload his ideas on YouTube. "Ayush is a truly talented boy, and has always amazed me with his knowledge of electronics. His 'career' really took off once he launched Sdik Rof – his YouTube channel for kids – in September 2015."
Ayush's luck took a turn for the better as more and more people started visiting his page to check his products. YouTube began paying him too. Though his first cheque was for a mere Rs 9,000 in April 2016, it boosted the teenager's confidence to no end. Soon, the payments became bigger. The fattest cheque he has received till now is for Rs 72,000 in October 2016.
Today, Ayush boasts of over 1.40 lakh subscribers, and his videos on making hair dryers and water heaters have scored as many as 25 lakh hits. He has developed around 72 different electrical products and posted 128 videos on his channel in the past two years.
"I use commonplace items to make things. As all my products run on solar light, poor people aren't burdened by soaring electricity costs," says Ayush.
In the light of his newfound glory, people don't look at Ayush in the same way anymore. His parents, Harishankar and Chhaya, now regard him with pride.
Vijay Baghel, a resident of Prithvipur, says Ayush is the hero of his locality. "He does things that others can't even imagine. Ayush is generous too. He gifted a scooter to the son of one of my relatives just because he couldn't afford one."
While Sagar police constable Rajesh Rathod gushes over a hoverboard Ayush made for his child, Pappu Dubey – a barber from Bhopal – can't have enough of a hair dryer created by the young inventor. "I have asked him to create a trimmer for me," says Dubey.
And then there are the ones inspired by Ayush's videos to dabble in some inventing themselves. "I am an ardent follower of his YouTube channel," says Raj Dikshit. "At present, I am trying to make a bladeless fan."
Ayush has also found an admirer in Satish Pal Singh Rajput, professor of mechanical engineering at the Maulana Azad National Institute of Technology in Bhopal. "Ayush is using the appropriate technology to make his products. Any student who has mastered basic science can do it, but most lack his vision," he says.
Close Story
Personalise your news feed. Follow trending topics