Madhya Pradesh court quashes triple talaq, says husband failed to follow sharia
The Ujjain court ruled that the husband failed to adhere to conditions laid out in sharia for divorce.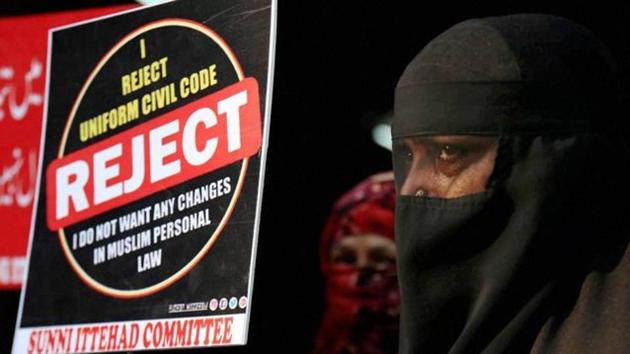 Updated on May 11, 2017 06:35 PM IST
Hindustan Times, Ujjain |
Sandeep Vatsa
A court in Madhya Pradesh's Ujjain has set aside divorce given by a Muslim man to his wife by uttering the word talaq thrice, saying he failed to meet the conditions for ending the marriage.
The woman's lawyer told media on Saturday that the court agreed with him that the man didn't follow sharia, the Islamic legal and moral code, while divorcing his wife.
The decision comes at a time when a debate is raging over controversial practices of triple talaq and polygamy among the Muslim community.
The Supreme Court is hearing a bunch of petitions challenging the practice of men divorcing their wives by pronouncing the word talaq, or divorce, thrice. The court will be sitting through its summer break that begins next month to decide the issue.
Arshi, a resident of Begambagh in Ujjain, married Taushif Sheikh in January 2013. Soon after the wedding, Sheikh started demanding money from her and her parents and physically tortured her, Arshi told the court.
On October 9, 2014, Sheikh divorced her by uttering the word talaq three times in the presence of some people.
Arshi challenged the divorce in the Ujjain family court and enlisted qazi Khaliqur Rahman, who had solemnised the marriage, a respondent in the case. A qazi is a judge in a Muslim community who presides over marriages and performs other duties as well.
Several conditions laid down in Islam for divorce were not followed by Sheikh, Arshi's lawyer Arvind Gaud told media.
As per sharia, an attempt at reconciliation should have been made and at least one mediator each should have represented the husband and the wife, Gaud said.
Shiekh should have paid mahr – money or assets promised by the groom or his side to the woman at the time of marriage – before divorcing Arshi but he didn't.
The court accepted the arguments and declared the divorce void on March 9, he said.
A Muslim scholar and lawyer, Hafiz Qureshi, said several opinions were being expressed on triple talaq but no one was going through the provisions laid out in Quran. Misinterpretation of Muslim law and rituals must be stopped, he said.
India has separate sets of personal laws for each religion governing marriage, divorce and succession. While Hindu law overhaul began in the 1950s and continues, activists have long argued that Muslim personal law has remained mostly unchanged.
Close Story
Personalise your news feed. Follow trending topics