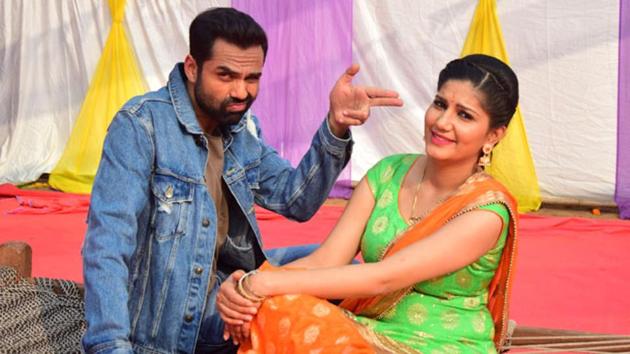 Abhay Deol's next has Bigg Boss 11's Sapna Choudhary and her 'thumke'. Watch video
This is Sapna Choudhary's third Bollywood song after her Bigg Boss 11 stint. She earlier appeared in Jimmy Sheirgill's Veerey Ki Wedding and Bhangover.
UPDATED ON APR 04, 2018 01:33 PM IST
Bigg Boss 11 contestant and Haryanavi singer Sapna Choudhary has done a special song in Abhay Deol's horror film, Nanu Ki Jaanu. Titled Tere Thumke Sapna Choudhary, it is a dance number that was released Tuesday. This is her third Bollywood song after her appearances in Jimmy Sheirgill's Veerey Ki Wedding and Bhangover.
The song is sung by Khushboo Jain and Saumya Upadhyay. It has been composed by Gunwant Sen and written by Abid Ali. Tere Thumke is a playful number which has Sapna's signature dance moves.The number shows Sapna during a stage performance where Abhay joins her and everyone gets into celebration mode.
Sapna said in a press statement, " I am very excited for the movie's release of the song. The whole set had to be redesigned in 7 hours and the shoot rescheduled, when the unexpected rains washed away the whole set. I have been a fan of Abhay Deol all my life and it was great to dance with him on the big screen for Nanu Ki Jaanu."
Nanu Ki Jaanu stars Abhay along with Patralekha Mishra Paul in the lead and is a horror comedy that traces a story of a ghost falling in love with a crook. It is directed by Faraz Haider and written by Manurishi Chadha. Story of Nanu Ki Jaanu is based in Delhi and Abhay plays the crook who manipulates vulnerable home owners in Greater Noida to sell their houses on discount.
Follow @htshowbiz for more
Close