Bhumi Pednekar is a fierce dacoit in Son Chiriya first look
Bollywood actor Bhumi Pednekar unveiled her first look from Son Chiriya in which she plays a Chambal dacoit.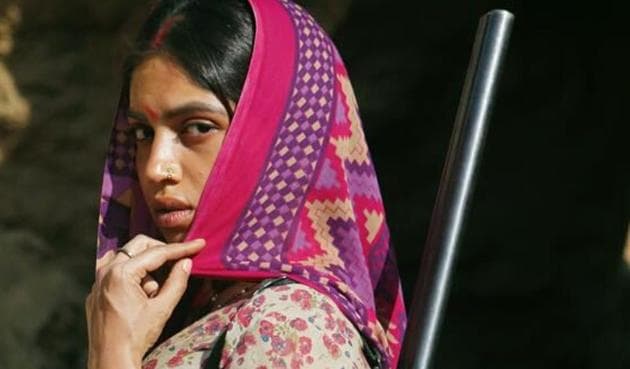 Updated on Apr 04, 2018 02:49 PM IST
Bollywood actor Bhumi Pednekar unveiled her first look from Son Chiriya and she looks every bit the vulnerable yet fierce woman who lives in Chambal. Directed by Abhishek Choubey, the film also stars Sushant Singh Rajput, Manoj Bajpayee and Ashutosh Rana in lead roles. Bhumi will don simple saris & long-sleeved blouses in the film, with minimal makeup.
Sharing the picture on Twitter, Bhumi wrote, "SONCHIRIYA As we wrap up this unforgettable journey,Sharing a bit of me from this very special film ❤️ #AbhishekChaubey @itsSSR @BajpayeeManoj @RanvirShorey #AshutoshRana @RSVPMovies #MacGuffinFilms #HoneyTrehan #SudipSharma #Khushi #SonChiriya." Bhumi looks fierce in a simple sari with the 'pallu' draped over her head, even as a rifle dangles from her shoulders.
Praising the director, Bhumi had tweeted on Tuesday, "Everyday I learned,Everyday I changed,Everyday I felt enlightened.This beautiful chaos was my awakening.#AbhishekChaubey I can't thank you enough for this🙏🏻 #Sonchiriya #Special #Forever @itsSSR."
Sushant also took to Twitter to express his gratitude towards Abhishek, "While I was trying to do what you hired me to do, You also taught me how to do it better. And now I'm realising it & smiling.. Gratitude is all I have #AbhishekChaubey . Thanks a lot my man! Cheers to #SonChiriya #RSVP"
The team shot portions of the film in Chambal. Talking about his experience in the ravines, Sushant had earlier said, "Shooting for Abhishek Chaubey's film is on full swing. I came here in Chambal early to do a bit of warm up for the film. Visiting ravines, talking to locals, working on dialect and inflection and a bit of cut-off from everything before the shoot helps keep the right things in perspective."
Filmmaker Choubey has earlier directed Shahid Kapoor's Udta Punjab and Vidya Balan-starrer Ishqiya.
Follow @htshowbiz for more
Close Story