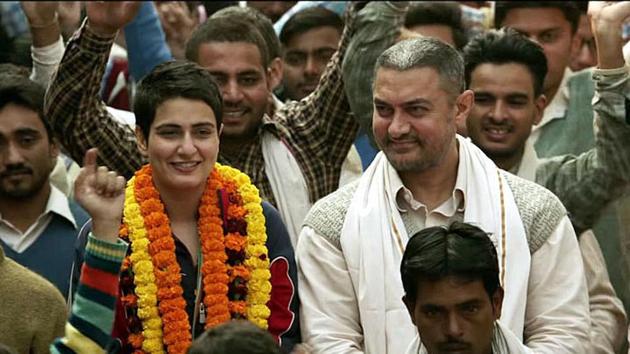 Dangal is the best film of 2016, say our readers
Our readers are also very enthusiastic about Dangal. We have picked the top five reactions by our readers here.
Hindustan Times | By HT Correspondent
, New Delhi
UPDATED ON DEC 24, 2016 04:53 PM IST
Aamir Khan's latest release Dangal is winning hearts ate the box office. Everybody has great things to say about Dangal, and some of them are comparing it with Salman Khan's June blockbuster Sultan.
Our readers are also very enthusiastic about Dangal. We have picked the top five reactions by our readers here:
Yatharth Chauhan: Somewhere in the second hour of Dangal when Aamir Khan as a dismayed father challenges his own daughter to take him on at the wrestling turf, you don't witness a fight, you feel emotions stirring up to speak everything that can't be vocally conveyed. And these emotions in comprehensiveness make this film a wholesome experience, not just another outing for a sports drama!
Dangal is a well nurtured, well fought and well deserved gold. One of the very bests of 2016!
Smita Vyas Kumar: The movie is inspired by the true story of the Phogat sisters, Geeta and Babita from Haryana who are now world class wrestlers. The story is as much about their father Mahavir Singh Phogat who was a National wrestling champion but had to give up the sport due to financial pressures. He wanted a son he could train but since he had four daughters he trained them instead.
The film is sharply focused and this tight story telling helps to keep our attention on the girls. The story is narrated as a voice-over by the girls' cousin, and this voice-over is crucial in setting the right atmosphere for the movie. The wry and humorous tone and the affectionate digs at the uncle who won't spare the girls, keep the movie from becoming too serious and ponderous.
Rahul Bharadwaj: Aamir Khan should be officially designated as the Don of December. Ghajini,Taare Zameen Per and now Dangal. I doubt if any other star of bollywood from the current ones can claim such a solid triology of December legends.
Aamir Khan you remain the biggest showman of our times. I doff my hat you master actor and master movie maker. Master story teller tag for this one of course goes to Nilesh Tiwari.
Ameet Bhuvan: A crucial point in Dangal's climax sees Amir trapped, cornered both literally and figuratively. Conventional wisdom dictated the expectation of a "darwaza todo" moment of heroism that glorifies the Hero cementing his machismo and saving the day. Dangal is, however, anything but conventional. And that is the victory of this brilliant piece of cinema that entertains and breaks new ground while all along straddling predictable familiar tropes and themes .
Prerna Singh: It is predictable, yes. Because we all know that Geeta Kumari Phogat did win Gold in the Commonwealth Games. That's exactly what inspired the film. However, the treatment of the story is something that will make you feel for it. Imagine watching a film on cricket where the story is not overshadowed by the hero in the film but makes you understand the nuances of how to decide when to cut, glance, or sweep the ball. How to hold the bat, and how the technicalities of a game matter. You would understand if you respect the spirit of a sport. That is what this film brings out.
Read more audience reviews here.
Close