Ketan Mehta creates an incredible love story in Manjhi - The Mountan Man
Updated on Jul 22, 2015 01:19 PM IST
Ketan Mehta's Manjhi - The Mountain Man will open on August 21 and it tells the bewitching story of a man who used just a hammer and chisel to cut through a mountain to lay a road.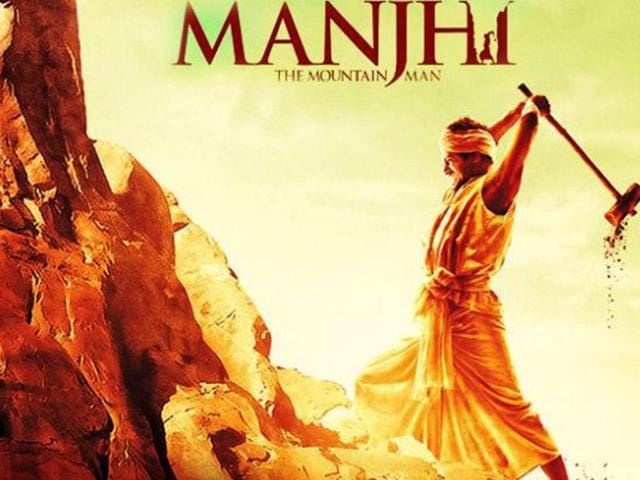 Hindustan Times |
, Chennai
Gautaman Bhaskaran
Ketan Mehta's Manjhi - The Mountain Man will open on August 21 and it tells the bewitching story of a man who used just a hammer and chisel to cut through a mountain to lay a road.

Manjhi- The Mountain Man is based on the true story of Dashrath Manjhi - a man in Bihar who lost his wife, because she could not reach a hospital in time, a mountain making the journey fatally circuitous - he took up the hammer and chisel to cut the monstrous obstacle. And he did this all by himself, much to the scorn and ridicule of his fellow villagers in Gehlaur. who saw him toil away for 22 years.
In 1959, Manjhi's wife, Falguni Devi, was grievously hurt when a boulder from the mountain crashed on her, and despite best efforts she could not be given medical treatment in time to save her as the road from Gehlaur to Wazirganj -- where the nearest hospital lay -- was 80 km long.
When Manjhi finally carved a path through the mountain, making way from his village to the medical centre, the distance melted into just 13 km. Years later, Manjhi, would tell his compatriots and critics that the mountain had shattered so many pots and claimed so many lives that he could not bear to stand and watch.
Although he lived an extremely impoverished life - he had to sell his goats to buy the hammer and chisel - he never lost heart in those 22 years. Manjhi died in 2007 aged 73, and was honoured with a Bihar state funeral.
Watch trailer
Mehta told this writer over the telephone from Mumbai that Manjhi's "was an incredible love story - even more poignant and precious than that of Shah Jahan. While the Mughal emperor had hundreds of slaves and a full treasury to build the Taj Mahal in 22 years, Manjhi had none of those. Single handedly, he created a passage, a true monument of love, not just to keep the memory of his wife alive, but also to serve humanity and save precious lives. Therein lies the difference between Shah Jahan's Taj Mahal and Manjhi's rocky road."
Mehta also felt that Manjhi was India's answer to Superman, only that the poor villager or The Mountain Man was real.
Immortalising The Mountain Man is Nawazuddin Siddiqui, an actor whose recent performances have been singularly engrossing. As Chand Nawab in Kabir Khan's latest outing, Bajrangi Bhaijaan, he literally transforms into the TV reporter's character, and in fact, of the two redeeming features in the film, one of them is his invaluable presence. The other is Harshaali Malhotra, who plays the six-year-old mute Pakistani girl. There are several moments in the movie where Siddiqui shines brighter than the hero, Salman Khan. Remember that scene where the two, clad in burkha, are fleeing from the cops. The sequence would have fallen flat had it not been for Nawab's fine histrionics and lines delivered with amazing timing. Also, one could not have missed Nawab standing on a footbridge against the backdrop of a stationary train in a railway station trying desperately to finish his news reporting -- even as he grapples with passersby who keep intruding into the field. Only Siddiqui could have carried that scene with such wonderful wit.
Although the 40plus actor has been around for a while, since 1999, it was only during the past few years that he has caught the critical eyes. As an Intelligence Bureau officer A Khan, in Kahaani, Siddiqui packed power into that punch with steely resolve; as Faizal Khan in Gangs of Wasseypur, the actor was garrulously cunning; as a trainee clerk, Shaikh, working under Irrfan Khan's lonely and horribly cynical Saajan, Siddiqui essayed a largely underwritten role with finesse and flourish in The Lunchbox; and as Laik in Badlapur, he brought many shades into the man, cold and cunning, but also warm and sacrificing. Mehta could not have chosen a more appropriate Mountain Man.
Mehta himself has given us enormously interesting fare in films like Bhavni Bhavai (about untouchability), Mirch Masala (about a wicked subedar rampaging through a village and who finally gets beaten by the women's chilli powder treatment) and Mangal Pandey: The Rising (about a sepoy whose action spurred the 1857 war of independence).
Mehta's Rang Rasiya, with Nandana Sen and Randeep Hood, was a colourful portrayal of Raja Ravi Varma's passionate affair with his muse. The movie did not get a censor clearance for six years, because of its nude scenes. Finally, it hit theatres in 2014 and received wide critical acclaim.
Close Story
Personalise your news feed. Follow trending topics