Radhika Apte chills in a bikini on a yacht, reveals her most obvious place to sit on a boat. See pic
Apr 25, 2019 04:57 PM IST
Radhika Apte is chilling at a picturesque location and has shared her vacation pictures on her Instagram account.
Actor Radhika Apte is one of the busiest actors in Bollywood and is currently on a work-vacation at an undisclosed beach destination. The Sacred Games actor shared a picture on her Instagram and captioned it, "I found the most obvious place on a boat to sit. @rekapalli #boat."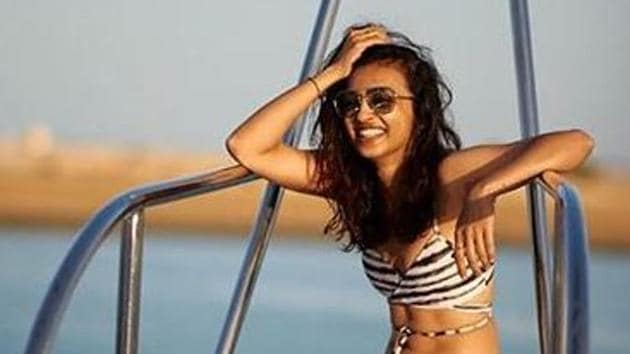 The actor seems to be on a work trip and can be seen posing in a striped black and white bikini as she poses for a photo shoot. The actor seems to be enjoying a good time under the sun in the picture.
The actor had recently shared a video proof of her love for food. She can be seen finishing an entire big cup of ice-cream topped with chocolate sauce sprinkled over it. She had captioned it, "When I love you; I love you #icecream #eatingtutorial #obsessivelove #compulsivelove #truelove."
She was recently holidaying in London and shared a few pictures from her winter holiday. She had earlier shared a video of her scuba diving session and had called herself an idiot while sharing the video on her Instagram account. She had captioned it, "Epic fail attempt at scuba photo bomb! #divinglover #everythingisinslowmotion #photobomb #looklikeanidiot thank you @rekapalli for this memory clip. With @luminousdeep." Underwater photographer Sumer Verma had even corrected her in comments, "Not supposed to photo bomb a video."
Radhika is married to musician Benedict Taylor and travels to London regularly to spend time with him. In an interview to a website, the actor had said, "I try and visit every couple of months and he also comes so we're not away from each other for more than a month. It's exhausting and very expensive also. I remember sometimes people meet on an aircraft and they ask why are you flying economy and I'm like what the hell does that mean. Imagine making three trips in two months, and that too last-minute ones because suddenly I got a week off. It's such an expensive lifestyle – two houses in two of the most expensive cities in the world and 2-3 tickets a month to travel back and forth every month. That's why I'm not vegetating."
Also read: Avengers Endgame box office predictions: Film to open at Rs 50 cr, Thanos claims its first victim in Kalank
Radhika was seen in four films last year including the blockbuster Andhadhun. She also featured in Akshay Kumar's PadMan, Baazaar and Lust Stories. She had played a pivotal role in the first season of hit Netflix Original Sacred Games but her character died in the end. She was also seen in another web series, Ghoul.
Follow @htshowbiz for more