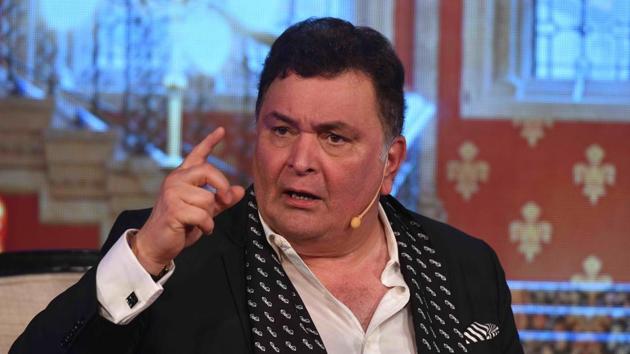 Rishi Kapoor on Vinod Khanna's funeral: Stars wait for fashion parade at prayer meet
Vinod Khanna's Amar Akbar Anthony co-star Rishi Kapoor is angry that no actor from this generation made it to Khanna's funeral on Thursday, also says it was heartbreaking that none of his leading ladies came.
By Monika Rawal Kukreja
, New Delhi
UPDATED ON JUN 05, 2017 06:13 PM IST
Veteran actor Rishi Kapoor is angry, yet again. In a series of tweets, he has lashed out at the "so-called stars of this generation" for not turning up at Vinod Khanna's funeral on Thursday. Khanna died at the age of 70 in Mumbai, after succumbing to bladder cancer.
"I was angered, not disheartened," Kapoor tells us, referring to the near-total absence of young actors at the funeral except Abhishek Bachchan and Randeep Hooda. "What does an actor work for? It's his last journey and you can't come to pay [your] respects to man who has worked in over 150 films and been there for over four decades, and even has worked with you? Sad that a respected senior actor was sent away by not actually having a lot of people with him wishing him adieu," says Kapoor.
On whether he expects more people to turn up for Khanna's prayer meet, Rishi retorts, "Yeah because that's more of a fashion parade and you want to be in the comforts of air conditioned premises. Why were you not there for this [funeral] event?"
Despite the fact that Khanna earned immense love and adulation from his co-stars, Kapoor adds, "It's heartbreaking that none of his leading ladies were there. Even many actors from my generation were not there. You just needed to give him respect for his contribution to cinema and love that he's spread. No one is expecting you to make a dramatic entry at the funeral."
On Thursday night, Kapoor posted a series of tweets.
Saying more about the sparse attendance at Vinod Khanna's funeral, Rishi Kapoor points out that it wasn't as if Khanna didn't have any connection with the industry for a long time. Khanna's last films are Dilwale (2015) and Ek Thi Rani Aishi Bhi (2017). "[Also] he has two kids—Rahul and Akhsaye—who are part of the industry and his other son, Sakshi, is joining films soon. There's some human element that you want to share someone's grief," says Kapoor.
The 64-year-old shares that though he "was never overtly friendly with Vinod Khanna", he had no reason to skip Khanna's funeral. "My career has been sprinkled with films with him. I can't say that I shared a great vibe with him, a great chemistry or anything of that sort. It was pure respect. I've directed his son Akshaye (in Aa Ab Laut Chalen, 1999) and I remember Vinod was so happy that I had taken his son for my film, and that's the reason for my being there. He was my elder, my senior, my colleague, part of my fraternity and brotherhood. We are all part of one small family of actors who are contributing to cinema and spreading love."
Among those who've shared screen space with Khanna in recent times are actors such as Shah Rukh Khan, Varun Dhawan, Salman Khan and Sonu Sood and none of them was there at the funeral. Did Kapoor have any particular names in mind while writing those tweets? He says, "I'm not naming any one person. I'm just saying that this generation — actors, filmmakers, producers — none of them came. I've seen this happen at Feroz Khan and Rajesh Khanna's funeral also. It seems these actors have troubled this generation [so] that they don't really care. I am compelled to think in this manner."
Soon after Kapoor's first few tweets, trolls were quick to react asking him why his son, Ranbir, couldn't attend the funeral. "I clarified in my next tweet that he's not in the country and my wife, too, is away. If he was, he 100 per cent would have been there," he says about that.
In one of his tweets, Kapoor even attacked those who attended Priyanka Chopra's party, a night before Khanna's demise.
Why the comparison? He explains, "Because just a night before, I saw the most profound people from the film industry and the following morning, barring a few, none was there at his funeral. You could be out of town but the very fact that most of these shootings and most of whatever so called activities were going on were cancelled [after Vinod's demise], you can't tell me that didn't know about it. Knowing that he passed away at 11 in the morning, you had the whole day to plan. All TV channels and radio [stations] were blaring about it, yet it was such a poorly attended funeral."
The makers of Baahubali 2 cancelled their Mumbai premiere as a mark of respect, and Kapoor calls it "a justified tribute and a welcome thing".
Follow @htshowbiz for more
Close