Sangram Singh all set to make a biopic on legendary KD Jadhav
Former wrestler-turned-actor Sangram Singh has bought the rights to make a film on the life of Khashaba Dadasaheb Jadhav and will be playing the legendary wrestler onscreen himself.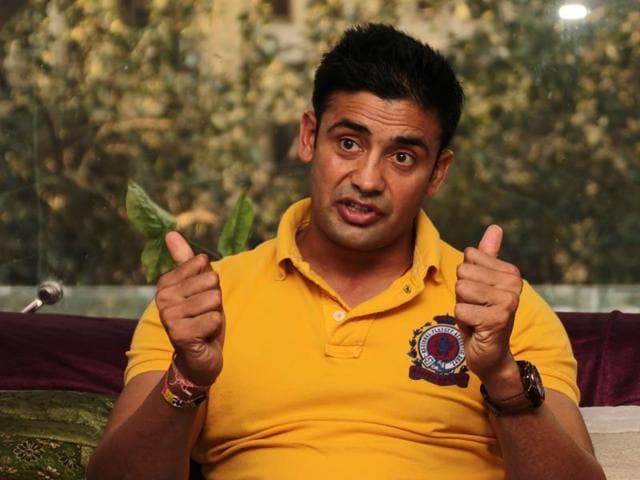 Updated on Aug 06, 2016 07:55 AM IST
As the Olympic fever grips the world, wrestler turned actor Sangram Singh (above) has bought the rights to make a film on the life of legendary wrestler Kashaba Dadasaheb Jadhav, who was the first Indian to win an Olympic medal in 1952. The 31-year-old will be depicting the wrestler on screen and is working hard to prepare for the role.
Read: Filmy inspiration | Wrestling no longer an 'uncool' sport for Delhiites
"I am shooting for a TV series, but after that I have to lose 25-30 kgs for this role. I am working really hard for it, because I want the story to be told the right way. Har roz unki zindagi khud feel karne ki koshish kar raha hun," he says.
Before Sangram, actor Riteish Desmukh was in talks to buy the rights to the film on the Maharashtra-born wrestler. However Sangram reveals that Jadhav's family did not trust Riteish Deshmukh enough and the rights eventually went to Sangram.
"Jadhav ji's son, Ranjit was not ready to make a deal with Riteish ji, because he thought the story won't be told in the right way. He trusted me and I convinced their family that I will do complete justice to it." he says.
Read: I don't have time for a daily soap, says Sangram Singh
He adds, "He (KD Jadhav) is the first superstar from sports in India. He won an Olympic medal in 1952, when all facilities were scarce. Tab tak India ka namo nishan hi nhi tha individual sports mein. He was the first one to put India on the map and the world knew for the first time that India too can produce top athletes and sportspersons," he concludes.
Close Story