She is entitled to her opinion: Bollywood on Swara Bhaskar's open letter on Padmaavat
Press Trust of India |
Press Trust of India
Jan 29, 2018 06:19 PM IST
Bhasker slammed director Sanjay Leela Bhansali for apparently glorifying jauhar (mass sati) in the period drama, which released last week after months of controversy.
Bollywood celebrities such Ayushmann Khurrana and director Imtiaz Ali have said that while Swara Bhasker, who has criticised the depiction of 'jauhar' in Padmaavat, is entitled to her opinion, they found nothing objectionable in the movie.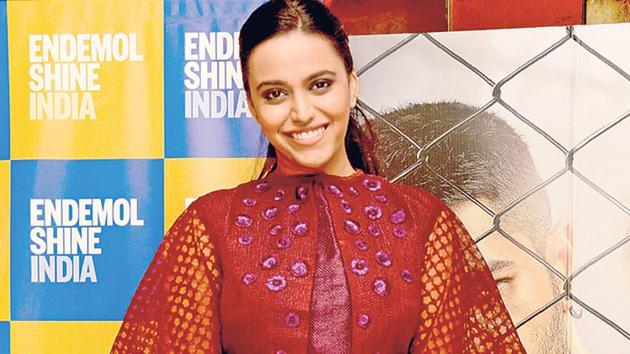 Bhasker slammed director Sanjay Leela Bhansali for apparently glorifying jauhar (mass sati) in the period drama, which released last week after months of controversy.
Ayushmann said while everyone is entitled to their opinion, a filmmaker should be respected for his or her perspective. "A movie does two jobs: either it gives something to the society or it takes from it. Every director has his or her own perspective. The intention of every piece of art is to cause a debate, a discussion, there are critics also who discuss and then the audience also gives its opinion. So, everyone has their own opinion. Art is always subjective, never objective," The actor said at the red carpet of Mirchi Music Awards.
Actor Divya Dutta said she agrees that 'jauhar' scene in Padmaavat is visually evocative but as the story is set centuries ago, she did not feel Bhansali glorified the practice. "The film has been told like a story. Everyone has their own viewpoint. Swara kept hers, I respect that. She felt something... That visual (jauhar scene) is very strong when it comes across. But the film is set in another century, whose mindset was different. So, my view point is different. I enjoyed it (the film) very much. I respect her opinion but I take the film for what it is, absolutely," Divya said.
Filmmaker Rohit Shetty declined to comment on the letter, saying he wants the film to run peacefully as the filmmaker has suffered enough already. "The film has released, now, please let it run peacefully. I will request the media that after a lot of difficulties, Padmaavat has released. So, please let it breathe. I will say something, then someone else will say something else, that way we will get this film, our film in some or the other trouble."
Rohit said the film should be left with the audience as they have the right to reject or accept it. "It is doing a great business. The whole team has gone through a lot- Bhansali, Deepika, Ranveer, the whole Viacom18 team- they have endured a lot, so, let it remain with the audience now. What's the use if we start talking about what he said or she said. I will not say anything. Let the film breathe now, for God's sake,' he said.
Director Imtiaz Ali said he did not find anything in the film worth protesting against. "Any kind of obstacle that comes in a film does not feel good. There's nothing in Padmaavat, which should cause any kind of protest but then everyone has their own opinion."
Ram-Leela co-writers Siddharth Singh an Garima Wahal have penned a counter letter to Swara, saying there are lots of instances in the film which portray Padmavati as a strong- willed woman and in fact the decision to opt for 'jauhar' was hers and not forced upon. "They must have felt like a 'vagina' when she chose 'fire' over 'rape'? It was her 'call', her 'decision' as a vagina. Right, wrong, strong, weak is up to you to interpret as a 'penis' or as a 'vagina'," they wrote on their blog.
Actor Suchitra Krishnamoorthi slammed Bhasker's letter. "Aren't these feminist debates on #Padmaavat rather dumb? It's a story ladies - not an advocacy of Jauhar for god's sake. Find another battle for your cause- a real one at all. Not historical fiction," she said.