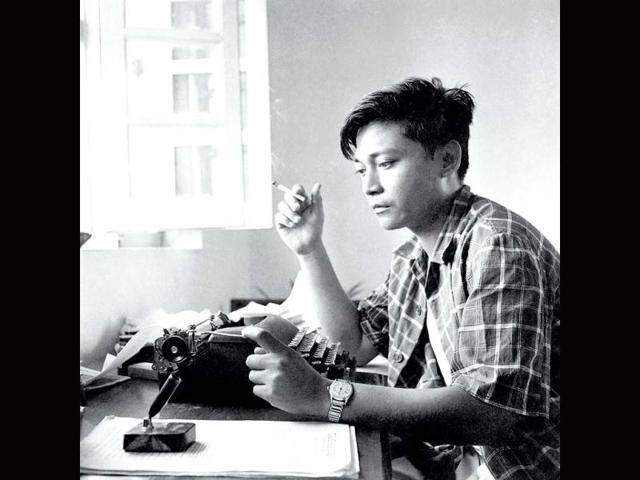 Critics' choice
Acclaimed art critic Richard Bartholomew's writings shaped the contemporary Indian art scene. The Art Critic is a complilation of his writings spanning three decades from 1950s to the early 1980s
Hindustan Times | By Pankaj Mullick
UPDATED ON SEP 23, 2012 12:39 AM IST
While names like Tyeb Mehta and MF Husain invoke instant recall, the person whose writings communicated what their works were about to the public is less well-known. It was Richard Bartholomew — writer, art critic, poet, painter, photographer, and one-time secretary of the Lalit Kala Academy — who captured the change that artists of the Progressive Art Movement were bringing about. Now, a new book, The Art Critic, published by BART, will attempt to reacquaint people with Bartholomew's critical writings on art from across three decades.
It wasn't just his writing — spanning three decades from the 1950s to the early 80s — that shaped the contemporary Indian art scene, recall artistic greats of the time. He was directly responsible for nurturing it and reached out to upcoming, young talent and worked relentlessly to build a sense of community among promising and established artists.
"Richard was more than just an art critic — he was very much a part of the art movement of the time," says A Ramachandran, who as a young artist, showed up on the Delhi art scene in 1964.
"At that time, the art activity was very limited. There were just one or two galleries. But what mattered were the reviews of professional art critics, such as Dr Charles Fabri and Richard Bartholomew, which could make or break an artist. They carried a lot of weight. I remember that my first exhibition got favourable reviews. One evening, there was a knock on my door and I found Richard standing there. Having liked my work, he had come to invite me for dinner. What was amazing for me was that this eminent personality showed no sign of any awkwardness inviting an unknown, young painter over to his house," says Ramachandran.
There was a real need for a person like Bartholomew to be able to connect a rather bewildered public with the artists of the new movement, who were trying to break free from the Bengal School of Art, a movement characterised by its nationalistic hues. Artists, together known as the Progressive Artists Group, such as FN Souza, SH Raza, MF Husain and Manishi Dey, were making serious efforts to bring Indian art on to the international scene by encouraging Indian avant-garde.
Artists remember Bartholomew as a person of immense integrity, says eminent painter Ram Kumar. He is also remembered for his skill with the language and acute sense of differentiation between good and bad art.
"I recall Richard's writing to be a bit more direct than other critics and people used to worry about what he was going to write about their work. He was crafty with his use of words," says Ramachandran.
He recalls, "Once, while the family was living with us, Richard wrote a negative review of one of my paintings called 'Machine'. On the day that it appeared, we were sitting down to dinner when he noticed that my wife was sullen. He detected that it must be because of the review. He smiled and said, "The art critics of India seem to affect not just the artists, but the artists' wives too," which immediately lightened the mood."
It was, however, Bartholomew's stint with the Lalit Kala Akademi that is not remembered as fondly.
"I remember Richard as an honest person who believed in every word he said or wrote. Unfortunately, later he became involved with the Lalit Kala Akademi, which was then a centre for art intrigues and people conspiring against each other. He stopped writing and became more of a bureaucrat. I missed his honest views on art during that time," says Kumar.
Especially in the 1970s, it was these things that the Lalit Kala Akademi had come to represent that artists disliked. Bartholomew himself had been critical of the Academy, the National Gallery of Modern Art and had questioned the role of the state in promoting art.
"I thought of Richard as an important person and felt he had an important role to play at the Lalit Kala Akademi. In that, I supported him. He did well by the Akademi though I can't say that the Akademi did well by him," says Krishen Khanna, much celebrated painter associated with the Progressive Art Movement.
Other aspects of the man, however, endeared him to whoever come in contact with him.
"Richard was also a wonderful cook. I remember he had 'invented' this amazing Burmese dish that could be had as a snack, made with peanuts and ginger, among other ingredients. Among friends it became very popular and we even started referring to it as 'the Richard Bartholomew', or simply wanting to have 'Richard'," recalls Khanna.
for more information on the book, go to www.richardbartholomew.info/artbook
Excerpt from the art critic
The World of Sailoz Mookherjea, published in "Thought" October 15, 1960
Whenever the gulmohars flower and the jacarandas underline the blue of the Indian summer, memories of Sailoz Mookherjea will crowd and blur, for Sailoz was a continual and colourful blur. And his art was himself, always. And recalling the Sailoz that was, the man, and conjuring up those pictures that he painted I begin to feel a kind of thirst, a call of the summer of the senses inside me that is a sort of blur. I recall Sailoz, glass in hand, looking over the gulmohars in Connaught Place. Sailoz in a sunset of sadness that is between shades of the loneliness of the supremely finite artist, always between illusion and reality.
The world passed by Sailoz Mookherjea in the Connaught Place restaurant in those days when drinking in public places was not prohibited — youth and gaiety, figures in money and flesh, men and women who could buy art, but didn't, those who would never understand it, and men and women who would stop begging if only it were not so profitable. The mercury vapour lamps burned, the redness dimmed, and for Sailoz the past and the future bubbled like the soda in his whisky. In a world where isms had begun to vie with one another and the young were beginning to forget the old, Sailoz sat looking over his whisky — at weariness itself. Sunk in a cane chair on the corridor above the shop that sold pastries, sweets, cheese-straws, and brown bread, here was this middle-aged artist entrenched in youth. That was Sailoz almost 10 years ago.
If you went up to see him, you had to climb a stairway the walls of which professed a fresco. Whatever rhythms the band upstairs frisked, a giant cat from the decoration looked at you from behind a motley façade — unwinking, unkind, callous and preying. I would give anything now to have Sailoz photographed against that cat. Gentle and fragile and birdlike always, Sailoz and the cat, it seemed, stood on different walls. This is speaking sentimentally of the past, for it was somewhere between these harsh realities that Sailoz took notice of me for the first time when I was younger and had just begun to write art criticism as a form of literary exercise, and I knew less of Sailoz, how he was placed as a man and as an artist. I knew one thing then, intuitively — that art criticism, to be real, had to live a life of words. That is the ultimate truth about criticism. I know that Sailoz then knew one thing, and that he practised it consistently — that painting, to be real, had to live the life of an inner necessity. He never painted what he believed was beyond him. Sincerity, therefore, came naturally to him.
But to return. Sailoz gave up the company of his glass and of whatever cronies that surrounded him to tug me by the sleeve. "Very good," he said, and I saw that his eyes were bleared. "Your article, very fine." Then he smiled, very briefly. Then he sat down, or was tugged back into his seat by steadier friends. He shook his head in deprecation of the unknown. Then he pointed a finger at me. "Must write," he said. "Very good." It was not a review of his work that had prompted this compliment. He was not painting much then. Later, some observations of mine made Sailoz take up the brush again. "You will see," he said. And there was a twinkle so characteristic of his sober sight. "I have works," he went on. "Come. Quietly I am painting. Some landscapes. You will see."
It was the same man speaking. I was older by three years, Sailoz was older by three seasons; the landscapes were mistier, there was a veil of night over those fields of Tughlakabad. Like that of his beloved Van Gogh, his style was more cryptic, more in the shorthand of the sure sensibility. Sailoz had the old Kiss theme redone, and strangely enough, reflections in the water were some of his themes. Music, too, in the form of a shanai player piped for Sailoz the "still sad music of humanity".
Close