60% of failing Indian businesses pave way for gobbling success advice, Manuj Rajput
Aug 26, 2020 07:34 PM IST
"Risk can be synonymous in the first three years of chalking out a path on the map of triumph," said Manuj Rajput, the founder of Bolsterflip.
Business is like dipping in optimism waters to chalk out a journey with strings of worries when life tries to duck you in the water of worries. Allow your business model to be the vignette of your motivation and personal development on the business front. It is significant to gobble business advice to weave passion and grit for your successful venture. It is not surprising that 60% of new businesses have a difficult time to trace a path towards success.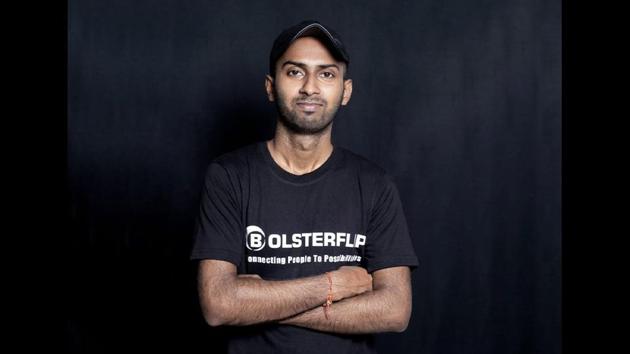 "Risk can be synonymous in the first three years of chalking out a path on the map of triumph," said Manuj Rajput, the founder of Bolsterflip.
Reports suggest that the only Indian company to mark a green flag in the Forbes list of top 25 businesses is Asian Paints, clearly demarcating the condition of businesses in our country. There are scores of reasons highlighted by Manuj Rajput, responsible for ducking the Indian origin company in the pool of crises.
1. There is no strong foundation of a business idea: Along with enthusiasm, one needs a bag full of novel ideas to reach the apogee of the market graph. If your roadmap towards a successful business does not have a foundation of an innovative idea, it is more likely to fail. The reason why most businesses are cornered is merely because their fuel towards success is enthusiasm and not a strong foundation of a business idea. There is a lack of mentoring and unaccepted inexperienced leadership shaping the prime reason for their business failure.
To tackle the roadblock, one must create a value proposition and build an acumen for channelizing hard work efforts in the right direction. Seek advice from successful founders and mould yourself for enhancing your leadership skills. Always imprint your mind with the phrase, learning from our own mistakes is smart, but learning from other mistakes is smarter.
2. Absence of smooth cash flow: In addition to working capital, there is a need for a smooth cash flow since entrepreneur ideas kick start with extensive setup costs. One fails to understand the curveballs on the financial graph, rooting crises with their business.
Manuj Rajput quotes, "Founders make the mistake of taking the crucial step of starting their business line with strong intuition; however, no gut feeling must be the foundation of a start-up unless backed by smooth cash flow."
3. Identifying individuals for a strong empire: Young bubbling founders make the mistake of thriving their business on the one-person model. However, it is mere foolishness. One needs to hire people with intelligence coming from diverse fields to add value to a successful business. With talent, you can win a medal, but with a team, you can win a trophy. The foundation of your business must be a strong workforce for converting your ideation into execution.
4. There is no framing of a novel, innovative idea: Indian businesses have been known to copy ideas either from the western model or from competing existing businesses. Unless we frame our own puzzle of a thriving business market, we cannot be the fitting piece of the complex puzzle. Mark your own identity according to your market.
5. Sync with the market demands: sustaining in the Indian market is very challenging since the demographics keep changing. If one needs to excel in the market, it is necessary to sync with the future demands of the Indian market. In no small measure, the market is highly volatile and affects the graph of a successful business growth. If you wish to hold a grip, you must learn to envisage the market to focus on the probabilities.
The key reason why nine out of ten businesses fail in India is that there is no strong evaluation of business and its probable outcomes. Manuj Rajput, the founder of Bolsterflip, said, "Having outsourced ideas can be disruptive and hamper the market positioning to stun growth on personal and business front. Thus, study the Indian saturated market to reach your fullest potential to mark a green flag of success. This can be possible by adding value to your business with novel ideas, smooth cashflow, knitting a strong empire, and syncing with the demands of the diverse Indian market."
Disclaimer: This is a company press release. No HT journalist is involved in creation of this content.