Amitabh Shah & Amish Tripathi's 'Stronger Together': A digital dialogue to inspire thousands
The motivational series invited participation from various other eminent personalities and top corporate CEOs.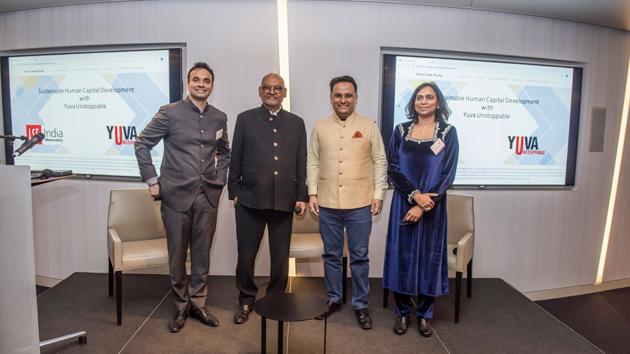 Published on Oct 12, 2020 05:52 PM IST
Amitabh Shah, Founder and Chief Inspiration Officer of a reputed India-based NGO Yuva Unstoppable, launched a three-part virtual dialogue series with famous Author Amish Tripathi. The goal being, to battle COVID-19 with positive vibes and inspiration. Amish Tripathi, the Indian diplomat/columnist and celebrated best-selling author known for his Shiva Trilogy (the fastest-selling book series in Indian publishing history), is one of the global ambassadors of Yuva Unstoppable and its mission of empowering youth. Yuva Unstoppable was founded in 2005. It empowers various disadvantaged sections of society.
An overview
Amidst such difficult times, Stronger Together talks offered leaders from various walks of life a platform – to share their philanthropic journeys as well as life lessons to cope with tough times and to inspire thousands through optimism and courage.
The motivational series invited participation from various other eminent personalities and top corporate CEOs. Dilip Piramal (Chairman, VIP Industries), Sunish Sharma (Co-founder Kedaara Capital Advisors), Natasha Sharma (Author), Sangram Singh (World's best professional wrestler and motivational speaker), Meenakshi Batra (CEO, Charities Aid Foundation, India), Dr Ayaz Memon (Legend in sports writing & journalism), and Dr. Vishwanath Joshi (Chief People Officer, Hexaware) were few among them.
Eminent personalities on stronger together
Setting the tone for Stronger Together, Amish Tripathi shared his insights on the Indian approach to charity: "In our way of life, it's all about the 'Karmic Balance sheet'. If someone helps us, we have taken on debt. And the only way we can wipe it out is when we help others or return the debt. So when you are actually giving charity, you are wiping out 'Karmic Debt'."
Speaking on gratitude and philanthropy, Dilip Piramal said: "If you have a feeling of gratitude, you have a positive attitude. Gratitude and positivity go hand in hand. If you are positive, you see what you have, rather than what you do not have."
Sharing his idea of giving and charity, Ayaz Memon said: "When you give with a purpose in mind, it has a little more meaning. When the aid reaches the neediest, it is more fulfilling than charity for the sake of charity."
Sangram Singh shared some encouraging thoughts too: "what challenges you is what changes you. A person is truly successful when he is healthy and thinks about others. He is successful when he makes an effort to contribute to something meaningful."
Amitabh Shah & Amish Tripathi - The duo behind 'Stronger Together'
Amish Tripathi first met Amitabh Shah and his wife Rashmi Amitabh Shah in London last year. Soon after, he co-launched The London School of Economics' (LSE) India Observatory Case Study on the impact on grass-root level education created by Yuva Unstoppable.
Kicking off Stronger Together during the lockdown, Amitabh Shah went on to share the vision behind it: "Any process of change is never easy. It's painful, but also one of the core causes behind the evolution of mankind. The more one evolves, the stronger one emerges. That is what the year 2020 is. It shall lead us to a better future. And the only way to evolve in that future is by being Stronger Together. Amish has visited and inspired our municipal school students and teachers several times. I am deeply grateful to him for enabling us to inspire and uplift so many children, men, and women. For me, he is the real-life Suheldev. I am deeply grateful to him and all our patrons for joining us in this series. Thank you for providing a ray of hope to so many youths in need of courage and wisdom during this ongoing pandemic."
Catch a glimpse of Stronger Together here: https://youtu.be/y5EwRnUipHI
Disclaimer: This is a company press release. No HT journalist was involved in the creation of this content.
Close Story