Bajaj Finserv's new campaign #LoanFlexibleHai to drive awareness for its Flexi Personal Loan
With this campaign, Bajaj Finance Limited, the lending and investment arm of Bajaj Finserv, is focusing on driving awareness on its unique proposition of flexibility that comes with its personal loan.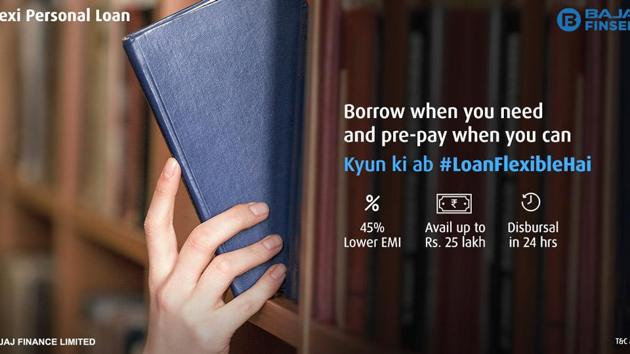 Updated on Dec 09, 2019 04:57 PM IST
A recent survey conducted by Home Credit India found that 28% of respondents were open to taking a personal loan to meet their various needs or to simply improve their lifestyle.
This can be attributed to the fact that with an increase in wages and online lending becoming a reality, personal loans are extremely accessible today.
With their #LoanFlexibleHai campaign, Bajaj Finance Limited, the lending and investment arm of Bajaj Finserv, is focusing on driving awareness on its unique proposition of flexibility that comes with its personal loan. Apart from a collateral-free principal and restriction-free usage, the Bajaj Finserv Flexi Personal Loan extends to your instant, on-the-go financing too.
Since this offering may be new to you, Bajaj Finserv has rolled out a fun and easy-to-follow game as part of its #LoanFlexibleHai campaign. It takes you through the features of the loan and elucidates how a Flexi Personal Loan is a convenient financing solution for both planned and unplanned expenses.
Read on to know more about the exciting #LoanFlexibleHai campaign, but first, take a look at the unique features of the loan.
What are the main features of the Bajaj Finserv Flexi Personal Loan?
• Access to ample financing courtesy of hassle-free withdrawals: You get unrestricted access to a sanction of up to Rs.25 lakh. You can withdraw from it in parts, multiple times, without needing to make a fresh application. Moreover, you can do this through your online account, as per your convenience
• Efficient borrowing at reasonable interest rates: Bajaj Finserv levies no charge on multiple withdrawals. In fact, interest is payable only on the withdrawn amount, and not the approved sanction.
• Easy application process for speedy financing: Once you meet the simple eligibility criteria pertaining to age, employment and salary, you can easily apply for financing by filling out an online application and producing the necessary KYC and financial documents.
• Option to pay interest-only EMIs initially: Bajaj Finserv facilitates easy repayment by allowing you to pay interest-only EMIs for an initial part of the tenure. This helps you save up to 45% on EMIs, thereby making borrowing more affordable.
• Zero part-prepayment charges reduce the cost of the loan: Bajaj Finserv encourages you to prepay the loan and gain financial freedom by charging you no part-prepayment fees.
How does the engaging Flexi Personal game work?
The interactive platform game, launched as a part of the #LoanFlexibleHai campaign, helps you understand how a Flexi Personal Loan can be your ally throughout life's ups and downs. As you play, you jump from one tile on to the next. On your journey, you'll encounter tiles of three different colours: red, green and blue. Red tiles indicate emergencies, unknown and known, such as house repairs or a job loss. On the other hand, green tiles indicate planned expenditures like your child's higher education, and blue ones indicate part-prepayments made with surpluses such as bonuses or dividends.
Your aim is to reach the top while navigating the tiles, and as you do so the calculator on the right displays the changes made to your loan's attributes. As you scale, you'll notice how a Flexi Personal Loan can tackle both foreseen and unforeseen expenses with equal finesse. For example, on encountering a red tile, you can press the spacebar to borrow from the sanctioned amount and advance further. The calculator displays the total loan amount left and your EMIs each time you borrow from the sanction or pre-pay.
Now that you know all about this campaign, play the game and check your pre-approved offer from Bajaj Finserv to get instant financing. Click here to see for yourself how #LoanFlexibleHai!
Disclaimer: This content is released by Bajaj Finserv. No HT journalist is involved in creation of this content.
Close Story
Personalise your news feed. Follow trending topics