Beatitude emerges as a one-stop solution for handwoven sarees, Indo-western dresses and jewellery
One of the primary motivations of Beatitude is to enhance the lifestyle of its patrons, enabling them access to core and natural Indian products.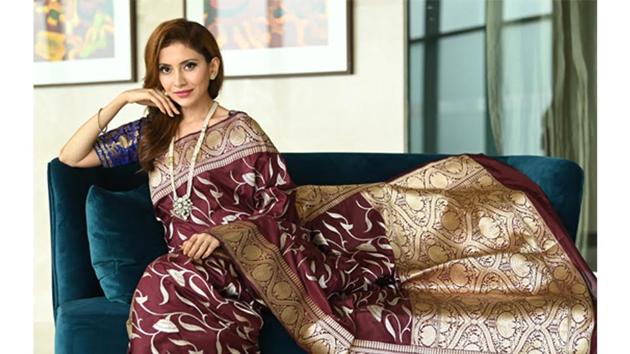 Updated on Sep 22, 2020 04:25 PM IST
When Mrs. Akanksha Kanwal Shukla founded Beatitude and collaborated with Mr. Pushkar Shukla as a co-owner, the idea was to deliver modern, artistic and ambitious designs created through locally available supreme craftsmanship. The idea, since then, has caught on with people in India and abroad, delivering the brand to an enthusiastic and rapidly growing customer base.
One of the primary motivations of Beatitude is to enhance the lifestyle of its patrons, enabling them access to core and natural Indian products. And it has been very successful at it in the last four years, during which the brand went on to register an impressive CAGR of 4975%. The brand continues to have its eyes set on double expansion figures every year.
Beatitude boasts of an exclusive and extremely well curated collection of handlooms, including handcrafted and handwoven sarees, dupattas, customised designer blouses, premium stoles, ethnic wear and handmade jewelleries. It primarily sells all the products through its portal and offers an easy 30-day return/exchange policy along with free shipping on prepaid orders.
Under the able guidance of co-owners Mrs. Akanksha Kanwal Shukla, who looks after the operations front, and Mr. Pushkar Shukla, who has a business management background from IIMB and looks after the strategic legal alliances and financial management front, the brand has managed to stay true to its aim of wowing everyone that has been associated with it, starting from people who source the raw materials to people who design and help sell the finished products.
"What inspired me was the huge design potential and an extremely skilled workforce that is available in India but we have not quite found a way to leverage it to meet the huge demand in our developing country. A lot of people, even though interested in home grown handloom products, continue to find it inaccessible," said Akanksha Kanwal Shukla. "Beatitude aims to address that gap in the market," she adds.
Whereas according to Pushkar Shukla, Co-Founder, Beatitude,"We have introduced an exquisite collection of handcrafted products that have been designed by our in-house designers that will be promoted as Beatitude Exclusive Designs, this will provide our customers-base best of our exclusive and unique products,"
What has worked for the brand is the niche it has managed to create in a specific segment. Beatitude works with a GLOCAL approach, where it manufactures locally in India while being in sync with all the new global trends that are in vogue. And it achieves this goal with the help of an in-house team of textile and fashion designers, each of whom bring in their expert insights and create a truly world class range of products. Quality, uniqueness and research form the basis of this high performing team at Beatitude.
The dictionary meaning of Beatitude itself is 'Supreme Blessedness', and in reality, the brand embodies that spirit in many different ways. It serves as a blessing for the financially disadvantaged communities of craftsmen and weavers in our country, offering that section of the society a livelihood along with a golden chance to showcase their creativity on a much grander stage. Beatitude is also a blessing for all its clients across the globe, who get easy access to masterpieces from the Indian craftsmen available at very pragmatic rates.
In helping the talent meet opportunity and demand, Beatitude creates a huge social impact by not only working towards uplifting the poorer sections of the society but also by placing its faith in the massive potential of Indian products.
As we head towards the end of this year, Beatitude has an extensive collection on offer, keeping in mind the long drawn festival season that already greets us. The latest collection from Beatitude celebrates Indian culture and heritage in all its plurality. The designer sarees for Onam range from the traditional gold and white to something more pop and bright, like the Kalamkari sarees. There are also many different wardrobes available to cater to the many beautiful cultures that together make up India. There are Taant sarees from West Bengal that will come in handy during the upcoming Durga Puja and Dussehra. Then there are Kasavu sarees from Kerala, Chikankari sarees from Lucknow, Paithani sarees from Maharashtra, Phulkari sarees from Punjab, Lehriya sarees from Rajasthan — all of which are among fifteen different types of saree wardrobes launched as an ode to the sartorial tradition of India.
And if that sounds like too many options, Beatitude also has curated collections like Beatitude Classics, Best Sellers and Couture Indian Bridal Wear Online to help you navigate through the vast collections and make the best purchases. Along with the portal, the items are also available on sale on the social media channels of Beatitude.
Disclaimer: This is a company press release. No HT journalist was involved in the creation of this content.
Close Story