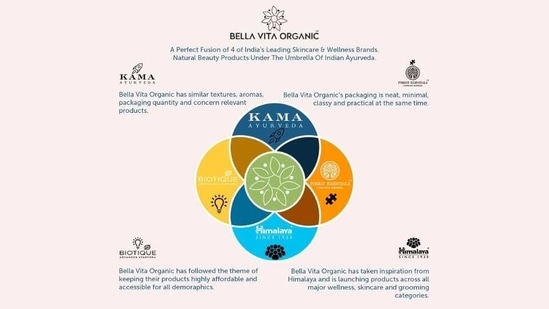 Bella Vita Organic - A perfect fusion of 4 leading skincare & wellness brands
The brand has created its niche as an Indian brand in Ayurvedic and natural beauty products space.
By HT Brand Studio
PUBLISHED ON MAR 10, 2021 07:12 PM IST
Over the past 2 years, Bella Vita Organic has made consistent moves towards their strategy and portfolio. The brand ethos is very clear. It is a perfect fusion of the quality of luxury brands, packaging inspired by minimal design, portfolio similar to a mass Indian brand while maintaining the prices similar to famous FMCG brands easily affordable by everyone.
Let us decipher what the team at Bella Vita Organic have been upto. This is one sure read for all skincare connoisseurs who love to try amazing skincare and natural beauty products.
Bella Vita Organic has picked up the best from each of the following brands and created its own niche as an Indian brand in ayurvedic and natural beauty products spac.
1. Product Quality Matching Kama Ayurveda
Kama Ayurveda being a market leader in natural skincare products makes amazing quality of creams, gels, oils and lotions. Bella Vita Organic has surely taken inspiration from their products and has created similar textures, aromas, packaging quantity and concern relevant products.
2. Clean & Beautiful Packaging Inspired By Forest Essentials
Bella Vita Organic has recently enhanced their packaging and OMG its brilliantly neat, minimal, classy and practical at the same time. They use recycled plastic that happens to be more sustainable as compared to other options.
3. Wellness Products Portfolio Similar To Himalaya Wellness
It is evident that the team at Bella Vita Organic is leaving no stone unturned. They are venturing into various domains and are ensuring a plethora of natural skincare and wellness products for everyone from pregnant mothers, to acne problemed teens while not losing focus on men grooming and every day wellness products. Their new range of luxury perfumes has won my heart already.
4. Affordable Pricing Similar To Biotique
Being a digital first luxury yet affordable natural skincare brand in india, Bella Vita Organic has ensured that they keep their product quantities generous and the pricing affordable. It's a big help for the Middle class and part time students like myself who aspire to buy expensive products just because of their quality but often can't afford them.
Bella Vita Organic has brought high quality yet affordable skincare, natural wellness and beauty products under the umbrella of Indian Ayurveda. To know more about Bella Vita Organic and to check out their collection, visit http://www.bellavitaorganic.com or visit their Instagram page.
Disclaimer: This content is distributed by Digpu News Network. No HT journalist is involved in creation of this content.
Close